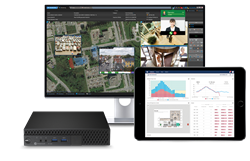 With this new bundle, and the Genetec Security Center unified platform at its core, financial institutions will be able to make the most of their existing security infrastructure to develop strategies to attract and retain customers, reduce fraud losses, and close cases quickly.
MONTREAL (PRWEB) April 04, 2019
Genetec Inc. ("Genetec"), a leading technology provider of unified security, public safety, operations, and business intelligence today announced the immediate availability of a new Unified Solutions Bundle for financial institutions, an all-in-one offering, specifically tailored to help banks with small and mid-sized branches and Automated Teller Machines manage security, (ATMs) make more informed decisions, and collaborate to close incident cases more quickly. The Unified Solutions Bundle combines several easy-to-install, enterprise-class Genetec products, at an affordable price for financial institutions.
"Traditionally, financial institutions with small or mid-sized branch locations and ATMs worked with multiple physical security technology and analytics suppliers to combine solutions that were not designed to work together. This created inefficiency and introduced cybersecurity vulnerabilities, challenging maintenance, and operational situations which increased costs. Our Unified Solutions Bundle solves that problem by bringing security, operations and business intelligence together into one single interface, reducing operator overload and improving efficiency. With Genetec Security Center at the core of this bundle, banking customers can be confident knowing that their solutions are deployed following cybersecurity best practices," explained Rob Borsch, Commercial & Practice Lead at Genetec.
With this new bundle, and the Genetec Security Center unified platform at its core, financial institutions will be able to make the most of their existing security infrastructure to develop strategies to attract and retain customers, reduce fraud losses, and close cases quickly. By using embedded analytics tools to analyze the vast amounts of data and video already being collected, they can make better-informed decisions about staffing and how to manage the flow of people. This can help them become more competitive and have a significant positive impact on their customers' journey.
A unified system can also improve overall branch security by giving personnel all the information they need, including alarms and associated video footage, on mobile devices or at their central operations center so they are ready to respond quickly. In an emergency, an IP-based physical security system that includes a map-based interface showing a location's cameras, doors, and other devices, can make all the difference.
The Genetec Unified Bundle features a Streamvault™ turnkey appliance, pre-loaded with the Genetec Security Center unified platform, and other software including:
Omnicast™ An IP-based video management system that goes beyond simple monitoring. Combined with video analytics, it helps you secure and better understand your banking environment with real-time access to surveillance video from any computer or smart phone.
Synergis™ IP-based access control to manage the movement of people throughout buildings, while securing doors and restricted areas in bank branches and administrative offices.
AutoVu™ An automatic license plate recognition solution that facilitates vehicle identification. This can assist your marketing and operations team to link specific vehicles to customer or employee profiles in your database or identify unknown vehicles in your parking area.
Camera Integrity Monitor module that alerts customers when a camera is either moved (pointed in a different direction), covered, or tampered with.
Retail Sense™ advanced consumer intelligence to empower banks by using existing security data to deliver insights and help transform customers' in-branch experience. These new insights enable you to make informed, real-time decisions, that increase consumer engagement and profitability by analyzing the data your system already gathers.
A free 90-day license of the Genetec Clearance™ digital evidence management system to speed up investigations by securely collecting, managing, and sharing digital evidence from various sources with others.
Optional add-ons include:
ATM Transaction integration (to correlate ATM activity with video footage),
Intrusion alarm panel integration plug-in (efficiently respond to intrusion breeches),
Sipelia™ Intercom hardware & licenses (SIP-based communications between operators and intercom devices),
Federation connection license (Connect different sites together),
Extended 5 -year warranty,
Analog encoder card(s) for 8, 16, 24 or 32 channels.
For more information about the Genetec portfolio of solutions for financial institutions, please visit: https://www.genetec.com/solutions/industries/financial-institutions.
About Genetec
Genetec Inc. is an innovative technology company with a broad solutions portfolio that encompasses security, intelligence, and operations. The company's flagship product, Security Center, is an open-architecture platform that unifies IP-based video surveillance, access control, automatic license plate recognition (ALPR), communications, and analytics. Genetec also develops cloud-based solutions and services designed to improve security, and contribute new levels of operational intelligence for governments, enterprises, transport, and the communities in which we live. Founded in 1997, and headquartered in Montreal, Canada, Genetec serves its global customers via an extensive network of resellers, integrators, certified channel partners, and consultants in over 80 countries.
For more information about Genetec, visit: http://www.genetec.com
© 2019 Genetec, Inc. All rights reserved. Genetec, Omnicast, Synergis, AutoVu, Streamvault, GenetClearance, Sipelia, Federation, and the Genetec logo are either registered trademarks or trademarks ofGenetec. All other trademarks contained herein are the property of their respective owners.