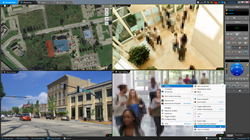 Streamvault analytics appliances provide a simple, cost-effective, and safer path to add video analytics to a security system
MONTREAL (PRWEB) December 05, 2018
Genetec Inc. ("Genetec"), a leading technology provider of unified security, public safety, operations, and business intelligence solutions today announced a new line of off-the-shelf analytics appliances within its Streamvault™ portfolio. Designed to analyze more camera streams per unit than traditional security appliances, the new devices come pre-loaded with Genetec Security Center and unified analytics modules, reducing the cost and time required to deploy video analytics in new and existing systems.
Available immediately through Genetec certified distribution and channel partners, the new Streamvault analytics appliances come in two versions: Model SVA-100, a compact unit ideally suited for retail and banking customers who are looking to anonymize patron/clients identities in service environments, and model SVA-1000E, a rackmount unit designed for customers with high camera counts looking to automate the detection of potential threats or monitor large public spaces while respecting individual privacy.
To protect the privacy of people in public spaces, both models come pre-loaded with KiwiVision Privacy Protector™, a real-time video anonymization module that dynamically pixelates individuals within a camera's field of view. This also maintains an operator's ability to monitor actions, something that is impossible with static masking. The new appliances also include KiwiVision Intrusion Detector™ which detects individuals and objects in sensitive areas, reducing reliance on visual monitoring and helping operators detect threats faster.
Specifying a server for video analytics can quickly become a complex process; scene activity, composition, and lighting directly impact how many streams can be analyzed by an appliance or a server. Previously, system integrators had to design servers themselves, test performance, and assume any risk associated with underspecifying a solution. Genetec Streamvault analytics appliances remove the uncertainties that come with deploying video analytics on a new or existing system, and reduce the cost-per-video stream analyzed by optimizing appliance components.
The Streamvault SVA-100 and SVA-1000E are designed to handle more streams than a typical video server with an analytics add-on. In the latter scenario, the server is not streamlined for analytics processing, but rather for video archiving. The new analytics appliance can be deployed alongside existing servers, ensuring surges in analytics activity do not compromise video monitoring or archiving operations. Once analyzed, video and analytics data are then directed to other products in the Streamvault™ family.
"Traditional servers are not adapted to video analytics requirements. When analytics add-ons are installed, they are limited in the number of streams they can analyze and require extensive customization and configuration before deployment, resulting in higher equipment costs," said David Grey, Streamvault Product Line Manager. "Streamvault analytics appliances are designed to complement them, allowing each device to focus on tasks they are best suited for. This allows us to deliver a more cost-effective, turnkey solution and decrease the total number of appliances needed for a project," added Grey.
For more information, visit http://www.genetec.com/streamvault.
About Genetec
Genetec Inc. is an innovative technology company with a broad solutions portfolio that encompasses security, intelligence, and operations. The company's flagship product, Security Center, is an open-architecture platform that unifies IP-based video surveillance, access control, automatic license plate recognition (ALPR), communications, and analytics. Genetec also develops cloud-based solutions and services designed to improve security, and contribute new levels of operational intelligence for governments, enterprises, transport, and the communities in which we live. Founded in 1997, and headquartered in Montreal, Canada, Genetec serves its global customers via an extensive network of resellers, integrators, certified channel partners, and consultants in over 80 countries.
For more information about Genetec, visit: http://www.genetec.com
© Genetec Inc., 2018. Genetec and the Genetec logo are trademarks of Genetec Inc. and may be registered or pending registration in several jurisdictions. Other trademarks used in this document may be trademarks of the manufacturers or vendors of the respective product.