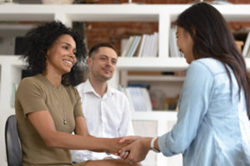 Genetic counseling acts as a bridge between a patient and the medical world - it translates medical jargon, test results and coordinates the different parts of a rare disease patient's care management and possible treatment options.
ORLANDO, Fla. (PRWEB) April 30, 2021
What is genetic counseling?
Genetic counseling is an integral part of the genetic screening, testing, and diagnosis process. It provides important services for individuals and families looking to understand more about their genetic health, their potential risks for developing a rare disease, and, in some cases, to understand a confirmed diagnosis of a rare disease as well.
Genetic counseling provides important information and knowledge about the causes and possible symptoms of rare diseases. It also helps put a patient's family medical history, their own medical history, and their symptoms within the context of a rare disease diagnosis. It improves the accuracy of the genetic diagnosis process and helps patients gain access to more targeted genetic testing for a more accurate result and diagnosis.
It is also important for the role it plays in providing patients and families with emotional support during challenging and sometimes stressful processes. It helps connect patients to rare disease networks and support groups as well.
Genetic counseling acts as a bridge between a patient and the medical world - it translates medical jargon, test results and coordinates the different parts of a rare disease patient's care management and possible treatment options.
Barriers to accessing genetic counseling
There are several main barriers to accessing genetic counseling. The implications of these barriers can have profound and long-lasting effects on the diagnosis and care of rare disease patients.
The diagnosis of rare diseases is already fraught with misdiagnosis and delayed diagnosis - some patients face a wait of anywhere between 4-8 years to receive a correct diagnosis. Part of this delay is caused by a lack of access to genetic counseling services and support.
This delay in reaching a diagnosis can, in turn, lead to delays in treatment and support for rare disease patients. Improving patient outcomes starts with an accurate and timely diagnosis.
Location
For many people, location is a considerable obstacle to accessing genetic counseling services. This is a particular problem for people who live in rural or remote areas. Still, even with larger urban areas and centers, location can be a real barrier to genetic counseling services.
Availability
As awareness about genetic screening, genetic testing, and rare diseases increases, so does the demand for genetic counseling. This creates increased pressure on a much-needed service and can lead to long wait times for appointments. This, in turn, creates a barrier to access and delays access to genetic counseling.
Cost
For some patients, the cost of genetic counseling, including transport costs to get there, can create an insurmountable barrier to accessing the service.
Awareness
Not everyone is aware of the importance of genetic counseling during the genetic diagnosis process. Not everyone is aware of the full range of services and support provided by a genetic counselor. For others, there is a barrier in understanding how and where they can access genetic counseling services and whether overcoming these barriers is worth it.
Overcoming barriers to genetic counseling
Increasing accessibility to genetic counseling services is important if we continue to raise awareness around rare diseases and ensure that rare disease patients get an accurate diagnosis fast. The faster patients receive a diagnosis, the faster they can manage their condition and related symptoms and improve their long-term outcomes.
So, how do we achieve this?
Online or virtual genetic counseling is one solution that removes all of the current barriers to accessing genetic counseling - location, availability, cost, and awareness - and ensures any patient from anywhere in the world can connect with a network of global genetic counselors and experts, from the comfort of their own home.
Online genetic counseling is easy to access. All it requires is a connected device with video. This means no traveling is involved, no logistical challenges to overcome, and it means accessing genetic counseling from a place and time that works for the patient and their family. It also removes scheduling conflicts and tries to fit genetic counseling and traveling to it into a family's schedule when moved online. There is greater flexibility in where and when, and this benefits everyone.
Moving genetic counseling online also increases availability - it removes wait times for a genetic counselor nearby and allows patients to look further afield for a genetic counselor, regardless of where the patient or counselor is in the world. This creates access to a broader pool of genetic experts and helps patients secure appointments faster. It also helps reduce costs and may ensure more competitive pricing for genetic counseling services as well.
Also, moving genetic counseling online should help raise awareness about its crucial and essential services for rare disease patients and their families. Greater accessibility naturally means greater awareness.
The FDNA Telehealth platform is designed to connect rare disease patients to a global network of genetic experts almost immediately. From the first meeting with a genetic counselor to more specific guidance with genetic testing and analysis options to understand how to manage a rare disease, online genetic counseling delivers help, information, and support fast.