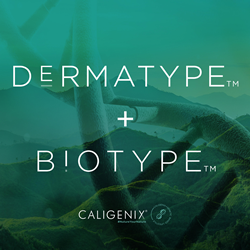 We have developed a technology that provides a complete bio-feedback loop for consumers: from assessing their unique needs, to using products matched to those needs, to tracking progress using their own bio markers. -- Dr. Tzur Gabi
LOS ANGELES (PRWEB) May 03, 2021
Caligenix® announces today it will be launching two genomic-based wellness brands, Dermatype™ and Biotype™ with product lines matched to people's individual genomic DNA. A pioneer in personalized genomics, Caligenix plans to launch Dermatype, a complete skincare product line, followed by the nutrition brand, Biotype, both scheduled for launch this summer. Dermatype and Biotype have been able to buck the one-size-fits-all approach to wellness, instead focusing on delivering personalized solutions. Backed by years of DNA research and data, their products are designed with advanced technologies, science-based AI algorithms and genomics, giving consumers complete insight into their unique needs while empowering them to make positive changes.
Dermatype will offer an end-to-end skincare system, beginning with an AI-powered facial analysis, followed by a skin DNA test and matching products. The product system offers a line of personalized serums based on stem cell technology that addresses five skin categories: firmness & elasticity, glycation, sun damage & pigmentation, free radical damage, and sensitivity & inflammation. Customers can simply upload a picture of their face and quickly receive a facial analysis coupled with the results of their skin DNA and actionable recommendations for skincare. They will then be able to log-in and continuously track overall progress and visible results from using the Dermatype products.
"Consumers are increasingly taking their health into their own hands -- and are prioritizing personalization in terms of skincare and nutrition. They also want to know that the products are actually working," said Dr. Tzur Gabi, Caligenix Co-Founder. "We have developed technology that provides a complete bio-feedback loop for consumers: from assessing their unique needs, to using products matched to those needs, to tracking progress using their own bio markers."
On a mission to personalize nutrition and skincare with advanced genomic technologies, Caligenix is continuing to pioneer products where the consumer is able to monitor the effects and impact on their health. In response to the growing health concerns around the COVID-19 pandemic, the biotech company introduced last year their nutritional supplement, Immunotype™, a DNA-based supplement that addresses the human immune system at the level of the genome. They also developed an 'Environmental Health Impact Index' tool, enabling people to get fast real-time insight into environmental and infectious factors based on their individual zip code.
"We are proud to have a team of leading scientists in genomics and precision nutrition with the shared vision that n=1, a personalized trial that enables people to measure their own results and response to various treatment regimens," said Eliad Josephson, Caligenix Co-Founder. "It's this lens through which we have developed technologies and methods to accurately measure and cater to each person on an individual level."
The Dermatype and Biotype products are currently in trials. Sign up at care@caligenix.com to get free access to Dermatype facial skin imaging analysis.
About Caligenix®:
Headquartered in Los Angeles, Caligenix is a genetic-based health and wellness company innovating customized solutions in the fields of nutrigenomics and dermagenetics, personalized to individual lifestyle and genomic data, so that people are empowered to take control over their overall health and well-being. Visit Caligenix.com.
Media Inquiries: media@caligenix.com