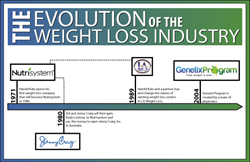 "We've learned from their mistakes." says Dr. George, "Our former LA Weight Loss clients appreciate that Genetix Program is similar to their method, in that it is a medically guided, daily coaching approach."
Tampa, FL (PRWEB) November 19, 2013
Susan Gold doesn't go to her weight loss clinic to get in shape. She goes to cope.
For two years, her father has battled esophageal and lung cancer due to obesity-related conditions. So, two times a week, the 47 year-old wife and mother showed up to the LA Weight Loss Center in South Tampa for the support and accountability she needed to make a change in her life.
She looked forward to the advice, the support, and, most of all, the encouragement of her coach.
"Frankly, when you're going through the toughest time in your life," Cole said, "to hear someone's optimism that you can do it — it's priceless."
On Wednesday, she went to her center as usual. There was no coach. There was also no LA Weight Loss.
Founded in 1989, the company has officially closed most of its doors, and renamed some of its centers. The break-up allegedly occurred because the company had been the target of scrutiny and lawsuits for false claims and false advertising of fees.
The lack of communication from the company has frustrated LA Weight Loss members. Gulfport resident Susan Gold, 47, recalled how she found out about the abrupt closing during her third month of meeting with her weight loss coach.
"I was in my center and my coach said she had an announcement," Gold said. "I was thinking, 'she's getting married, or she's pregnant'. But she shared with us that the center was closing. She just broke down and cried and it made us sick."
Emotions often run high with weight loss coaches and their clients, where coaches and clients alike call themselves a "tribe."
The coaches who help their clients are like big brothers and big sisters.They inspire a strong, almost-fanatical, loyalty among weight loss members.
Now, both LA Weight loss coaches and clients are finding a new home with an old feel with the Genetix Program.
Dr. Michael George, founder and CEO of Genetix Program says, "Because LA Weight Loss had ties back to the beginning of the weight loss industry with Nutrisystem, we feel like we're standing on the shoulders of weight loss giants. We're taking the best of what worked for them, throwing out what didn't, and adding in what we now know has been proven to work."
Much of today's weight loss industry stems from Nutrisystem. Sid and Jenny Craig sold their gym, Body Contour, to Nutrisystem in 1982 and used the money from that sale to form Jenny Craig, Inc. However, they had to comply with a non-compete clause which barred them from entering the North American diet industry for several years. Because of that, Jenny Craig was developed in Australia before returning to the US in 1985 to open a center everywhere there was a Nutrisystem.
Harold Katz, the original owner/CEO of Nutrisystem, went through difficult times with the company and was finally bought out in 1986. He eventually went on to open LA Weight Loss with a new partner in 1989.
"Genetix Program clients who've tried other weight loss methods have always relayed to us that LA Weight Loss was one of the few programs that worked for them and they were saddened by the closing of their centers." says Dr. George.
"We've learned from their mistakes. Our former LA Weight Loss clients appreciate that Genetix Program is similar to their method, in that it is a medically guided, daily coaching approach.
However, clients feel that the Genetix Program method is superior to LA because, while we do offer medical-grade nutritional products as supplementation to clients that ask for them, they are 100% optional. We focus on a lifestyle program which includes daily phone coaching and utilizes all-natural foods that you can buy from a grocery store. That gives our clients the freedom to make healthier food selections that are to their personal liking."
And our physicians are not just hired advisors, they are owners in the company and have a vested interest in seeing it and our clients succeed."
Phone coaching, such as that utilized by Genetix Program, has been recognized by the American Heart Association (AHA) as being just as effective as in-person coaching.
Gold has already joined Genetix Program. She said she's in touch with dozens of LA Weight Loss members in Pinellas who are ready to switch to the Genetix Program.
"It has changed my life," said Gold, who has continued to shed 100 pounds in 15 months on the Genetix Program.
"It's the accountability. It's the support. It's the camaraderie. It's the passion that these coaches put into it. It's absolutely addictive like you would not believe. I tell you, it's like a drug. And I'm telling everyone that I know."
"We are one tribe," said Gold, "nothing, and no one, is going to stop us."