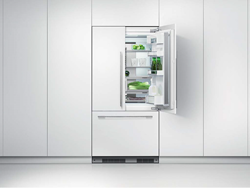 Before, a lot people wanted [flush fridges] but they weren't prepared to spend $10,000 on a fridge. Now, they can get a great fridge with the same look for a fraction of the cost.
Vernon, BC (PRWEB) August 31, 2015
Freestanding refrigerators have long annoyed designers and homeowners alike by protruding from cabinets and requiring door clearance, but a Vernon appliances pro explains one brand is about to release the ultimate solution: an affordable line of flush-fit fridges.
Brad Kirkham, owner of Genier's Appliances Store, which services Kelowna, Vernon, and the Okanagan, says Fisher & Paykel and DCS by Fisher & Paykel are launching this fall a line of built-in family-size refrigerators in the $5,000 category.
"It's definitely more accessible. Before, a lot people wanted it but they weren't prepared to spend $10,000 on a fridge. Now, they can get a great fridge with the same look for a fraction of the cost."
Whether homeowners prefer the sleek, industrial look of stainless steel or they want their fridge to be integrated (concealed with cabinetry), the refrigerators fit seamlessly into a kitchen design. No gaps at the top or on the sides. No protruding fridge doors. Just one, smooth surface.
The flush-fit design is possible, thanks to a unique hinge that allows the door to open by circling out and around neighbouring cabinets.
"Fridges have always been an issue because the door usually sticks proud. Or if it was flushed in, the door would bind with the cabinet next to it," says Kirkham. "Now, with a special hinge like a cabinet, it won't bind and it sits flush."
Kirkham expects to have Fisher & Paykel's next-generation built-in refrigerators in stock at his Vernon appliances store by mid-September. Designed for easy installation and a flush fit into new or existing kitchen cabinetry, these 36" wide fridges are available at heights of 72", 80" or 84" with minimal one-eighth gaps. Door panels can also be adjusted to suit uneven floors, and adjustable door skins allow fine-tuning of minimal gaps for the best possible fit and finish.
"Everyone wants their kitchen to look just right, and with websites such as Houzz.com, people are dreaming big," says Kirkham. "Homeowners investing in new appliances really care about these fine details, and now, this is one more option to help make that dream kitchen a reality on a smaller budget."
About Genier's Appliances
Genier's has been helping Okanagan homeowners take care of their families with the finest home and kitchen appliances for more than 50 years. Genier's expansive live Vernon showroom houses close to 60 of the world's best brands and more selection than any other store in the Interior, including Kamloops and Kelowna appliances stores.
For more information, please contact:
Brad Kirkham
Owner, Genier's Home Appliances
1-250-545-0664
http://www.geniers.com