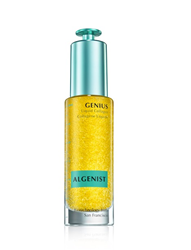 Glendale, Calif. (PRWEB) August 11, 2017
Algenist continues to disrupt the skincare industry with today's debut of GENIUS Liquid Collagen™, a plant collagen-based formulation unlocking collagen like never before.
Collagen is the key structural element skin needs to maintain its youthful appearance and Algenist is bringing many firsts to market with Liquid Collagen™, which include:

First to market with proprietary collagen water active
Active collagen water as the first ingredient in the product
Active collagen water paired with patented Alguronic Acid and microalgae oil
Microfluidic formula technology that allows for a pure and potent delivery of collagen
Being promoted through the tagline of Collagen Unlocked, Algenist speaks to the multiple benefits of the key active ingredient in the new product.
"Algenist has disrupted beauty since its inception in 2011 and the unexpected discovery of Alguronic Acid," said chief executive officer Frederic Stoeckel. "Today, the introduction of GENIUS Liquid Collagen is a game changer in beauty and is redefining what you can expect from collagen – faster and stronger results in 10 days."
"The ground-breaking discovery of microfluidic technology expedites delivery of collagen," said vice president of product development Tammy Yaiser. "This unique dual-phase, microfluidic formula suspends microbeads of microalgae oil and actives in plant collagen water to address skin structure, firmness, radiance, fine lines and deep wrinkles and dull, uneven texture."
GENIUS Liquid Collagen unlocks the true benefits of collagen and helps address the five signs of aging. Skin's youthful radiance is unveiled with visibly refined, smoothed texture, leaving skin appearance firmed and toned with noticeably minimized fine lines and deep wrinkles in 10 days.*
GENIUS Liquid Collagen™ retails for $115 and is exclusively at Sephora, http://www.sephora.com and http://www.algenist.com.
GENIUS Liquid Collagen™ can be applied after cleansing and toning, apply to entire face, neck and décolleté. For optimal results follow with moisturizer. Use only as directed.
*Specific results currently being obtained and will be available in the next 60 days.
###
About Algenist:
Unlocking the secrets of microalgae for visible skin transformation in 10 days. Proudly scientific, unapologetically bold. Algenist is an award-winning clinical skincare brand and trailblazer from Silicon Valley, the birthplace of biotechnology. Algenist unlocks the secret of microalgae – with its resilience against the harshest environments – and promises measured and visible skin transformation in 10 days. Patented Alguronic Acid, Algenist's breakthrough ingredient discovery, outperforms and transcends skincare boundaries. All Algenist products are consumer and dermatologist-tested, non-comedogenic, hypoallergenic and free of parabens, sulfates, synthetic dyes, phthalates, GMOs and Triclosan. Algenist is exclusively sold at Sephora, Ulta and QVC. Visit http://www.algenist.com and follow @AlgenistBeauty on Instagram for more information.