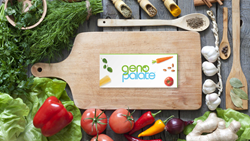 Genomics takes us to the next phase of personalization. Very soon it will be used not only for eating and health, but also for many other aspects of our lifestyle
MILWAUKEE and NEW YORK (PRWEB) May 26, 2020
GenoPalate and Edamam have formed a strategic partnership to make the world's largest food and recipe database accessible to people using their own genetic information to eat a healthier diet.
The partnership puts both companies in the forefront of the increasingly popular trend of personalized eating and nutrition.
The alliance benefits both companies: Edamam is moving more seriously into the nutrigenomic space; GenoPalate customers will receive more variety, quality and quantity of food choices and the ability to integrate those foods into numerous recipes.
"This partnership will give our users a much wider range of information about food and nutritional content and a broader set of recipes that will help them do an even better job of eating for their biology," said Yi Sherry Zhang, Founder and CEO of GenoPalate, a Milwaukee genetics-based, data-driven personal nutrition company that uses customers' genetic, anthropometric and lifestyle data to help determine a personalized nutrition profile that shows them which foods are good and bad for their health.
"Our database of more than 750,000 foods and over 5 million recipes will be a powerful tool for GenoPalate members who are using modern genetic information to inform their eating decisions," said Victor Penev, Founder and CEO of Edamam, a New York-based company, providing nutrition data solutions to businsses in the food, health and wellness sectors.
Edamam continuously updates and enhances database, adding new items as they appear. More than 70,000 new food products enter the market place each year, although the majority do not survive beyond 3 months. By having deep and accurate data, Edamam helps its clients' consumers make sense of that ever-changing landscape.
Starting in the fall of 2020, GenoPalate members will be able to access the Edamam information through the company's mobile and web applications.
"Genomics takes us to the next phase of personalization. Very soon it will be used not only for eating and health, but also for many other aspects of our lifestyle," said Yi Sherry Zhang.
About Edamam
Edamam organizes the world's food knowledge and provides nutrition data services and value-added solutions to health, wellness and food businesses. Using a proprietary semantic technology platform, it delivers real-time nutrition analysis and diet recommendations via APIs. Edamam's technology helps customers answer for their clients the perennial question: "What should I eat?"
Edamam's partners and clients include Nestle, Amazon, The Food Network, The New York Times, Microsoft and Barilla.
For more information, visit http://www.edamam.com or developer.edamam.com.
About GenoPalate
GenoPalate, Inc. empowers customers to eat better and healthier through science and personalization. GenoPalate's simple home nutrition DNA test analyzes 100+ genetic markers that determine a person's specific needs for vital nutrients such as carbohydrates, vitamin D, and sodium. That combined with millions of nutritional variables produces a personalized report recommending foods that will provide the most potential benefit for a person's health. The company was founded in 2016 by Yi Sherry Zhang, a Ph.D. molecular biologist and former medical college assistant professor at Medical College of Wisconsin.
For more information, visit http://www.genopalate.com.