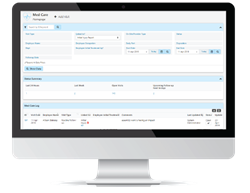 "It's exciting to be expanding our available suite of applications to accompany injury and illness forms and investigation. Med Care enables Medical teams to deploy and document conservative care issued to employees before the issue becomes more serious, resulting in possible injury or absence."
CINCINNATI (PRWEB) October 15, 2019
Gensuite, cloud-based compliance and management systems software solutions provider, releases an integrated and simplified occupational health and safety management software application to complement its award-winning, safety and environmental platform. Gensuite Med Care is a software module that provides a plug-in solution to manage medical programs and processes for enterprises with on-site medical clinics.
Gensuite Med Care combines injury and concern reporting for safety management and medical clinic recordkeeping, as well as workers' compensation. The integrated case management capability provides easy reporting to risk management and safety personnel. With increased visibility to incidents, clinic visits, and trends, organizations can optimize medical and safety program performance, costs, and clinic staffing needs. Med Care's actionable insights and data visualization help support and improve return-to-work programs. The configurable two-way and one-way communication sharing, and controlled access functions, comply with all HIPPA and GDPR regulations and guidelines.
Gensuite developed and released Med Care following several years of exploratory work supporting safety teams and occupational health personnel. Employees identified that many organizations struggle with misalignment, redundancies and missed opportunities from siloed case management and follow-up processes. Following development of a base module, Gensuite partnered with Harris Corporation (now L3Harris) to build a fit-for-purpose, pilot-ready solution over the past twelve months. "We are thrilled to release the Med Care to all current and new subscribers. The end-product reflects critical usability and functionality feedback from our pilot groups. We have additional key capabilities planned in our aggressive product roadmap with a monthly release schedule – now through March of 2020," said R Mukund, CEO.
Doug Martin, Vice President of Strategic Product Development, added, "It's exciting to be expanding our available suite of applications to accompany injury and illness forms and investigation. Med Care enables Medical teams to deploy and document conservative care issued to employees before the issue becomes more serious, resulting in possible injury and/or absences."
Read more about Gensuite's integrated occupational health and safety management system.