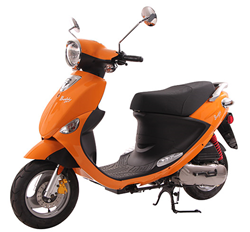 "Genuine wants to help reduce student debt by paying up to $5,000 toward one student's school tuition or student loans," said Dorothy Hanley, President of Genuine Scooters
CHICAGO (PRWEB) August 07, 2019
Genuine Scooters today announced their back to school sale and a contest to win up to $5,000 in tuition reimbursement.
From now until September 21st, all newly purchased Genuine Scooters will come with a 3-Year warranty (excluding the Stella model), a 3-Year Roadside Assistance plan and a $50 service credit on their first service. This includes popular models such as the Buddy, Buddy Kick, Grand Tourer, Hooligan, Rattler, Roughhouse and Venture.
"We all know about skyrocketing tuition costs and the heavy student loan debt faced by many students long after they've graduated from school," said Dorothy Hanley, President of Genuine Scooters. "Genuine wants to help reduce that debt by paying up to $5,000 toward one student's school tuition or student loans."
To enter the $5,000 tuition reimbursement contest, you must be currently enrolled in school and have a valid Student I.D. Go into any of the more than 200 Genuine Dealerships across the country or go to http://www.genuinescooters.com for more information. No purchase is necessary and the randomly-selected grand prize winner will be notified by email.
For more information, contact:
John Vita
John Steven Vita Communications
847/853-8283
John(dot)vita(at)jsvcom(dot)com