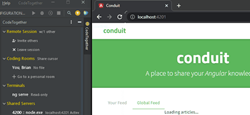 Many enterprises run on SAP platforms, so adding ABAP support to CodeTogether is a natural progression. This support will be of particular interest to our on-premises customers who can now offer live sharing to all of their developers
DALLAS (PRWEB) July 22, 2021
Genuitec introduces support for SAP ABAP with the release of CodeTogether 4.1. Compatible with Eclipse using ABAP Development Tools or VS Code using the ABAP extension, CodeTogether 4.1 lets the host live share code that resides on the SAP NetWeaver server and allows clients to remotely activate programs.
"Many enterprises run on SAP platforms, so adding ABAP support to CodeTogether is a natural progression. This support will be of particular interest to our on-premises customers who can now offer live sharing to all of their developers," said Todd Williams, VP of Technology at Genuitec.
In this release Genuitec also revolutionized local server live sharing, bringing this capability to all supported IDEs. Teams collaborating on web applications can now test apps without externally deploying them, speeding up the development cycle. This flexible new feature also allows developers to relay remote debug sessions, database connections or web sockets.
"No developer wants to have to paint a word picture when sharing progress on an app with colleagues. With local server sharing in CodeTogether, they simply provide a URL for their application in development. Instant remote feedback with a single click is invaluable to our customers," said Tim Webb, VP of Operations at Genuitec.
CodeTogether delivers host-based language intelligence to guests in a coding session for excellent content assist and validation. Leveraging this unique architecture allows Genuitec to continue to add enhancements that make the coding experience seamless for all guests in a session. CodeTogether 4.1 adds remote refactoring, allowing guests to remotely rename symbols and classes, with changes reflected across all participants in the coding session.
This same host-based intelligence also provides a nice selection of navigational aids for guests in a coding session. An already impressive list continues to grow with a workspace-wide search, and the ability to jump to types and symbols, regardless of the IDE or browser used to join the session.
Genuitec offers CodeTogether On-Premises for companies that require their code to remain behind the firewall at all times for the maximum in security and adherence to internal policies. You can deploy CodeTogether On-Premises using Docker, Kubernetes, or Red Hat OpenShift. New to 4.1 is the ability to deploy as a Kubernetes pod through a Helm chart, simplifying the setup process. Management of on-premises deployments is now even easier with the introduction of automated CodeTogether updates for all client IDEs.
CodeTogether offers a free plan, along with free trials of the Teams and On-Premises versions. To learn more about CodeTogether and try it out, visit https://www.codetogether.com/. If you are an ABAP developer on a SAP system, visit https://www.codetogether.com/sap-abap/ to learn more.
About Genuitec:
Genuitec's roots go back to 1997 when its three founders started an enterprise-consulting company. After seeing a real need for better software development tools, they built them. Knowing others would love these tools as well, Genuitec was established in 2001 as a small independent software company. From the beginning, their goal was to rapidly deliver quality tools at an affordable price. While still small and independent, you can find Genuitec software in a variety of settings: from a backroom in a data center, to a laboratory building a super collider.
Counting over 17,000 companies in 191 countries as customers, Genuitec creates tools that enable developers to build brilliant software. DevStyle, the #1 Eclipse Marketplace plugin, brings a modern look and feel to Eclipse. MyEclipse IDE gives the Java Enterprise developer easy access to popular technologies in a single solution. CodeTogether is the leading cross-IDE solution for live sharing coding sessions. Secure Delivery Center is the ideal tool for simple, secure delivery of perfectly configured IDEs. All Genuitec software includes free trials and world-class support via staff and community supported forums.
Contact Genuitec today to learn more: https://www.genuitec.com/company/contact