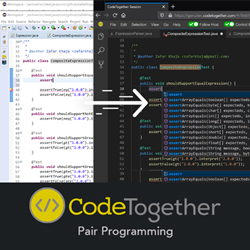 With software developers everywhere being forced to stay home during this pandemic, a reliable tool that enables them to still work together, seamlessly, is key for productive teams.
DALLAS (PRWEB) May 07, 2020
Genuitec announces the general availability of CodeTogether, an innovative pair programming solution. As a fully remote company, Genuitec brings extensive expertise in remote collaboration to the pair programming tool space. The GA release is available for Eclipse and VS Code, with an Early Access release now available for the JetBrains suite of IDEs.
"With software developers everywhere being forced to stay home during this pandemic, a reliable tool that enables them to still work together, seamlessly, is key for productive teams," said Tim Webb, V.P. of Operations at Genuitec. To further aid the development community, premium and enterprise level CodeTogether features will not require a paid license for the coming months. "We feel substantially delaying when we monetize advanced features is justified in the context of this global pandemic. CodeTogether does have a robust free plan and will continue to do so into the future," he continued.
CodeTogether is a code focused solution where participants can join a collaborative session using any modern browser. With no registrations or downloads required, participants can start coding in just a few seconds, even if they're using the tool for the first time. Everyone in the session has access to powerful IDE-like capabilities like IntelliSense, validation, advanced navigation, code analysis, and content search. CodeTogether also supports multiple frameworks and languages, making the capabilities of the host environment available to all participants.
"At Genuitec, our entire team is remote, and since we're big fans of dogfooding, we use CodeTogether while developing CodeTogether, a lot! This has allowed us to quickly identify and address inefficiencies and annoyances in the collaborative coding process. In response to feedback from early users, we've added more capabilities to the tool and fixed teething issues," said Wojciech Galanciak, CodeTogether Product Manager.
Whether your teams code together as part of their regular development flow, or just for the occasional troubleshooting session, CodeTogether presents a far better alternative to screen sharing solutions that most teams currently use. While an obvious fit for pair programming and mob programming sessions, CodeTogether can also be used for mentoring teams, early code review, hiring interviews or even online courses with dozens of participants in attendance.
The CodeTogether development team has paid special attention to the flow of control between all participants in the session, keeping the coding experience seamless while avoiding the pitfalls of a multi-cursor, simultaneous editing approach. CodeTogether early adopter Astrid Sawatzky observed, "Thank you for this brilliant tool. This is the first one that makes nearly instant sharing possible . . . overall a wonderful experience."
To learn more about CodeTogether, visit https://www.codetogether.com/. Chat with the development and support teams live on the CodeTogether Gitter community, or use the issue tracker to submit bugs or feedback.
About Genuitec:
Founded in 1997, and counting over 17,000 companies in 191 countries as customers, Genuitec creates tools that enable developers to build brilliant software. Genuitec offers a rich product portfolio to meet a variety of needs. Integrated development environments are perfect for a comprehensive solution: Angular IDE with superior Angular and TypeScript support for the modern web developer, and MyEclipse for the latest in front-end and back-end technologies for the Jakarta EE enterprise. Genuitec's Eclipse plugins deliver the missing pieces: DevStyle for outstanding developer ergonomics, including the top-rated Darkest Dark theme, and CodeMix, which unlocks a wide array of technologies from VS Code and add-on extensions built for Code OSS. Rounding out the product lineup are CodeTogether for collaborative coding, and Secure Delivery Center for simple, secure delivery of perfectly configured IDEs. All Genuitec software includes free trials and world-class support via staff and community support forums.
Contact Genuitec today to learn more: https://www.genuitec.com/company/contact