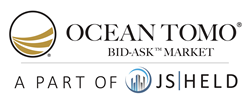 Technology to reach individuals or mass-audiences based on specified geographic location data available on the Ocean Tomo Bid-Ask market.
CHICAGO (PRWEB) December 07, 2022
Ocean Tomo announces the auction of Geofencing System and Methods Patents, available as lot 163, on the Ocean Tomo Bid-Ask™ Market.
The patent auction, lot 163, offers a portfolio of patents related to a remote facility-control system which protects a mobile system for associating actions with independent geographic location. When mobile users are traveling in a vehicle or other form of transportation, it is difficult to detect or view regionally specific information or reminders. The subject system allows for third party pin drops and scalable geofence to target mobile devices when approaching geofenced regions.
The system supports text and voice messages that can be sent to mobile users crossing geofenced boundaries.
The portfolio provides an attractive opportunity for service providers in wildlife and land conservation, law enforcement and outdoor event industries looking to develop independent location monitoring and messaging to service specific geographic locations.
To request bidder credentials or to receive further information on this portfolio available on the Ocean Tomo Bid-Ask™ Market, contact Layna Guo at Layna.guo@jsheld.com or +1 312 327 8179.
About Ocean Tomo, a part of J.S. Held.
Established in 2003, Ocean Tomo provides Financial Expert, Management Consulting, and Advisory services related to intellectual property (IP) and other intangible assets; corporate accounting investigations; regulatory and reporting obligations; solvency and restructuring; and contractual or competition disputes. Practice offerings address economic damage calculations and testimony; accounting investigations and financial forensics; technology and intangible asset valuation; strategy and risk management consulting; mergers and acquisitions; debt and equity private placement; and IP brokerage. Subsidiaries of Ocean Tomo include Ocean Tomo Investments Group, LLC, a registered broker-dealer.
As a part of J.S. Held, Ocean Tomo works alongside more than 1500 professionals globally and assists clients – corporations, insurers, law firms, governments, and institutional investors – on complex technical, scientific, and financial matters across all assets and value at risk.
J.S. Held is a global consultancy providing technical, scientific, and financial expertise across all assets and value at risk. Our professionals serve as trusted advisors to organizations facing high-stakes events demanding urgent attention, staunch integrity, clear-cut analysis, and an understanding of both tangible and intangible assets. The firm provides a comprehensive suite of products, data, and services that enable clients across industries to navigate complex, contentious, and often catastrophic situations.
J.S. Held, its affiliates and subsidiaries are not certified public accounting firm(s) and do not provide audit, attest, or any other public accounting services. J.S. Held, its affiliates and subsidiaries are not law firms and do not provide legal advice. Securities offered through our affiliate, Ocean Tomo Investment Group, LLC, member FINRA/SIPC. All rights reserved.