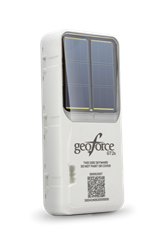 "The GT2 family solves the solar problem, providing unmatched reliability in a device built to withstand the beatings of the job-site with no maintenance for years," says James MacLean III, CEO of Geoforce
DALLAS (PRWEB) February 01, 2021
Geoforce, manufacturer of the world's toughest and most reliable high-value asset tracking systems, introduces its latest innovation – the next generation of solar-powered tracking technology, the Geoforce GT2. The GT2 leverages more than 14 years of IoT manufacturing leadership and "built tough" engineering innovation.
Just this month, the ultra-rugged and secure satellite-based version (GT2s) successfully completed its beta and field trials where it was evaluated on its ability to reliably perform in variable and low-light conditions in a variety of harsh, rugged environments and reliably connect via the Iridium® Satellite Network. The earliest working GT2s prototypes were shown to the US Army in April 2019 and deployed to support a demonstration for the 8th Army during TechNet Korea 2019. Since then, the GT2s has passed stringent environmental testing including temperature (-40C to +85C / -40F to +185F), water ingress (IP68/69), shock, thermal shock, operational vibration, salt fog, component reliability, and more to validate its ability to reliably operate to heavy industrial and military standards.
Engineered and certified to work in any environment, the GT2 is the latest addition to the proven GT family of high-value asset tracking devices. It is the first of its kind to deliver on the low-maintenance promise of solar-powered tracking with the rugged durability for which Geoforce is best known. Each version of the GT2 is designed to provide asset visibility in the most challenging environments, even where sunlight is scarce. Its engineering is consistent with the Geoforce legacy for tough, safe, and reliable devices, offering confidence that data will be available when needed, autonomously, in all conditions, year in and year out.
"We believe that delivering a great solution to our customers starts with getting reliable data from the field - from any location, using any network type and in any environment," says James MacLean III, CEO of Geoforce. "Solar powered devices have historically been unreliable. The GT2 family solves the solar problem, providing unmatched reliability in a device built to withstand the beatings of the job-site with no maintenance for years. Hardware is hard, but we're really good at it - and that's a competitive advantage for us. Successful companies continue to innovate, and I am very proud of our team and what they've managed to accomplish with this new GT2 series of products. It's impressive."
The dual-powered Geoforce GT2 Global Asset Tracking products will be available in three distinct versions:

GT2s Satellite Global Asset Tracker – The GT2s offers global communications over the Iridium satellite network, providing reliable messaging well suited for critical data and alerts. Iridium network access provides unmatched pole-to-pole connectivity. Connectivity can also be provided through the fully secure, global Iridium Satellite Network via the DoD EMSS Gateway.
GT2c Cellular Asset Tracker – The GT2c offers cellular data communication across LTE Cat-M networks. For locations when field assets are managed within active cellular network coverage areas, the GT2c offers a powerful,rugged low-maintenance solution to improve asset management.
GT2h Hybrid Global Asset Tracker – For assets that are not always within cellular coverage, the GT2H offers the ultimate flexibility. The unit automatically switches from LTE-M cellular networks to the Iridium satellite network when needed. This combines the ultra-low data cost of cellular communication, with the high availability of the Iridium network to deliver continuous visibility at a lower cost than satellite-only tracking devices.
GT2 Innovations
All versions in the GT2 family include features not found on other solar asset tracking devices:

Safe in dangerous environments – All GT2 products are built to be extremely safe, even in the most challenging explosive environments, with IECEx/ATEX ia IIC (Zone 0) intrinsically safe certification (pending).
Extremely durable and reliable – Designed and manufactured to stringent ISO 9001:2015 standards, each unit is fully sealed for maintenance-free operation and engineered for long-lasting performance in all climates and environments, from pole to pole, rig to rail, and yard to site.
Long service life, even in low-light conditions – An innovative dual-power power system, which marries solar-rechargeable batteries with high-capacity non-rechargeable backup system, ensures the GT2 can still reliably report in situations where sunlight is limited or nonexistent for years.
Quick, easy installation – All GT2 tracking units install in minutes on nearly any asset, and can utilize a stainless steel or plastic bezel for increased protection from damage and removal. Plus, all devices can be configured and managed in the field using our innovative Geoforce Field Tool iOS app.
Manage from anywhere – Update GT2 reporting profiles remotely via Geoforce's innovative Device Manager application, eliminating the need for site visits to simply change communication parameters or understand power usage.
Message assurance – The GT2 makes multiple attempts to transmit a message if it doesn't receive confirmation of receipt, ensuring that critical data is not lost through network outages or other errors.
Open access to data – Designed for compatibility with all Geoforce software, GT2 data can also be accessed via an open API for use in a wide variety of other software applications.
Future-proofed technology – Engineered with built-in Bluetooth technology, the GT2 can support future capabilities such as wireless sensors and other remote functionalty without replacing the device.
Why the Geoforce GT2 is the Next Step in Solar-powered Asset Tracking
Solar-powered asset tracking devices have typically promised to provide a low-maintenance way to track and gain operating data from unpowered equipment in outdoor locations due to their ability to continually recharge their batteries. However, solar-powered devices have demonstrated reliability issues in industrial settings from dirty or obstructed solar panels, failed packaging, water ingress, limited operating temperature and degraded battery capacity over time. For these reasons using solar power for asset tracking has been limited to highly selective commercial applications.
The GT2s solves these problems as it can operate reliably and provide data consistently in variable lighting conditions for up to 10 years through the use of an innovative dual-power system where solar rechargeable batteries are supplemented as needed by a separate high-capacity backup battery.
For more information, visit http://www.geoforce.com or talk to us directly at 888.574.3878.
About Geoforce
Combining a cloud-based software platform with ruggedized GPS tracking devices and global satellite and cellular networks, Geoforce's Track and Trace solutions bring control to often chaotic field operations. With over 1,300 customers tracking more than 160,000 assets in over 90 countries, the company operates the world's largest network of connected field equipment within the oil & gas industry, and its solutions are used in many other field operations intensive industries, including government & defense, agriculture, construction, mining, transportation & logistics, and rail. Headquartered in Dallas, Texas, Geoforce has R&D offices in Bozeman, Montana, sales and support offices in Houston, Texas, Denver, Colorado, Arroyo Grande, California, Macae, Brazil, Melbourne, Australia, and Calgary, Canada, and sales and service professionals in West Texas and South Louisiana.
For more information, visit http://www.geoforce.com.
ADDITIONAL IMAGES AVAILABLE UPON REQUEST