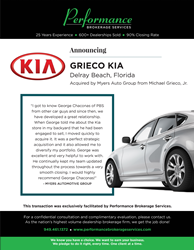 When George told me about the Kia store in my backyard that he had been engaged to sell, I moved quickly to acquire it. - Myers Auto Group
IRVINE, Calif. (PRWEB) August 07, 2019
Performance Brokerage Services, a new car and Harley-Davidson dealership broker is pleased to announce the sale of Grieco Kia from Michael A. Grieco, Jr. to Myers Automotive Group.
Kia of Delray Beach, Florida was previously owned by Michael Grieco, Jr. who sold the dealership to focus on building and renovating the facilities for his other franchises. Grieco, Jr. commented, "This firm and their knowledge of the auto industry as well as their professionalism are unmatched."
The buyer, Myers Auto Group, is a family owned and operated dealership group located in West Palm Beach, Florida. Myers Auto Group proudly offers Land Rover, Jaguar, Aston Martin and McLaren.
Myers Automotive Group commented, "I got to know George Chaconas of Performance Brokerage Services from other car guys and since then, we have developed a great relationship. When George told me about the Kia store in my backyard that he had been engaged to sell, I moved quickly to acquire it. It was a perfect strategic acquisition and it also allowed me to diversify my portfolio. George was excellent and very helpful to work with. He continually kept my team updated throughout the process towards a very smooth closing. I would highly recommend George Chaconas and Performance Brokerage Services."
The dealership will operate under its new name, Kia of Delray Beach, and will remain at its current location at 2255 South Federal Highway, Delray Beach, Florida 33483.
George C. Chaconas, the Southeast Partner for Performance Brokerage Services, Inc. and the representative for this transaction shared, "It brings me great pleasure to have completed my fourth transaction with Michael Grieco, Jr. and the Grieco Auto Group. I wish the Myers Auto Group much success with their acquisition and look forward to working with both groups again in the future."
About Performance Brokerage Services
Performance Brokerage Services, an auto dealership broker, specializes in professional intermediary services to buyers and sellers of automotive, commercial truck, Harley-Davidson and Powersports dealerships.
The company offers a different approach to the automotive, commercial truck, Harley-Davidson and Powersports industries by providing complimentary dealership assessments, no upfront fees, no reimbursement of costs and is paid a success fee only. Performance Brokerage Services gets paid only after the client gets paid.
With over 25 years of experience, the company utilizes an extensive network of industry related accountants, attorneys, hundreds of registered buyers and enjoys longstanding relationships with most of the auto manufacturers and the Harley-Davidson Motor Company. The intermediaries at Performance Brokerage Services have been involved in well over 600 transactions. Pledging loyal and unwavering representation, confidentiality is vigilantly protected during the selling process and after the transaction closes.
With corporate offices in Irvine, California, six regional offices in Utah, Florida, Texas, New Jersey, Alberta and Ontario, a dedicated Harley-Davidson and Powersports Division, and a dedicated Commercial Truck Division, Performance Brokerage Services provides its clients national exposure with local representation. For more information about the services offered by Performance Brokerage Services, visit https://performancebrokerageservices.com.