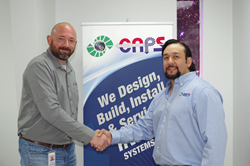 "Exceptional leaders bring value to a company but most importantly to the customers that we serve."
HOUSTON (PRWEB) December 06, 2018
Taylor Norris, CEO of Custom Air Products & Services, Inc. (CAPS), today announces the promotion of George Swies as Commercial Maintenance Supervisor.
"We are so excited about George and the value that he brings to this company and more importantly to the customers that we serve," CAPS CEO Taylor Norris explained. "As Commercial Maintenance Supervisor, George is now in a position to provide support for all aspects of commercial maintenance with an emphasis on commercial maintenance contracts."
CAPS General Manager of Service Division, Carl Brauer pointed out, "With George looking at the processes from a higher level, he is poised to have a greater impact on customer service, contract pricing, scheduling, and material control."
George brings with him ten years of global industry experience as a certified HVAC technician. He spent ten years in the U.S. Navy as Petty Officer Swies, Machinist Mate 1st Class (MM1). He holds many certifications through the U.S. Navy, Penn Foster Career School, and Coastline Community College. George will be reporting to the division General Manager of service.
As CAPS President John Boger explained, "If you don't have excellent people in the correct roles, it's nearly impossible to develop a great offering and serve your customers well. That's why, CAPS gives top performers, like George, the opportunity to be the leader he was meant to be."
About Custom Air Products & Services
Custom Air Products & Services, Inc. is a full-service HVAC company that specializes in the design, construction, installation, modification, and servicing of industrial and commercial air conditioning equipment. CAPS employees are committed to providing exceptional custom design and quality workmanship at competitive prices.
Custom Air Products & Services currently occupies five (6) modern facilities, totaling 350,000 square feet in size. These buildings include administrative and engineering offices, training facilities, a filter warehouse, and service shops for fabrication, manufacturing, and modifications. CAPS services are provided to customers throughout the United States and Mexico while their manufactured products have been delivered to sites around the world. Currently, CAPS has equipment operating on six (6) continents and in 52 countries.
For more information, contact Custom Air Products at 713.460.9009 or visit them on the web at http://www.customairproducts.com.
If you'd like more information about this topic, please call Susan Archer at 713.460.9009 or email her at susan.archer@customairproducts.com.