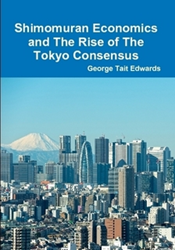 WARMLY, N.C. (PRWEB) November 18, 2015
In "Shimomuran Economics and The Rise of The Tokyo Consensus" (published by Lulu), author George Tait Edwards explores Shimomuran Economics and how it helped leading Asian economics achieve a much higher growth than their Western counterparts. The book provides a detailed explanation of the concept, as well as delving into its history and looking at how Western economies could benefit from its adoption.
Shimomuran Economics provides a solid basis for funding innovation and growth within explicit government policy and Edwards believes the United States and other Western countries should make use of it as soon as possible. "It provides a fresh-to-the-West system of macroeconomic understanding which has the potential to reverse the West's relative economic decline," Edwards explains.
Over 44 years of economic research has led Edwards to Dr. Osamu Shimomura's economic theory and the historical proof of his tenets. Edwards hopes that readers will take away, "A new system of macroeconomic understanding - not just an insight into one aspect of the Shimomuran Consensus Zone but a whole system of fundamental interlocking macroeconomic principles which have been successfully practiced for decades by the four nations in that Zone (Japan, South Korea, Taiwan and China)."
"Shimomuran Economics and The Rise of The Tokyo Consensus"
By George Tait Edwards
Softcover | 5.83 x 8.26 in | 172 pages | ISBN 9781291929942
About the Author
George Tait Edwards was born in Edinburgh in 1941 and graduated with two degrees from the University of Edinburgh. He has spent the last 44 years researching and writing books and articles concerning high growth economics. Edwards is married with four children and lives in Bristol, England.
Lulu empowers people of all ages to explore and express their interests, passions and expertise through books, photography and art. Since introducing self-publishing in 2002, Lulu has empowered creators in more than 225 countries and territories to produce nearly two million publications. Lulu Jr. allows children to become published authors, encouraging creativity, strengthening literacy and building self-esteem. Picture.com offers professional photography of collegiate and professional sports, memorable and historic events, fine art and home décor. For more information, please visit lulu.com.