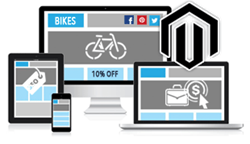 Atlanta Magento Developer offers RMA Extension
Atlanta, GA (PRWEB) June 30, 2014
Sales Secret LLC, an Atlanta Magento Developer, is excited to offer e-commerce website vendors the ability to control the return or exchange of items sold to customers, including requests history and tracking of items until the transactions are concluded.
The Magento RMA extension provides the highest standards of customer service. It is an efficient method of controlling the return or exchange of items sold to customers, ensuring visibility, and tracking of the item until the transaction is concluded.
With this add-on, you get not only Magento RMA functionality but also a bulk of other powerful features:
Easy RMA tracking

With the print labels and unique tracking codes, affording protection against fraudulent returns and can easily follow not only RMA requests but products returned as well.
Unlimited request types, statuses, and reasons
By default, there are two request types – replacement and refund. But if administrators need more (repair, credit for another product, or anything else), they can easily be created as well as new statuses and reasons in the backend.
RMA policy

Easily set up terms and conditions for RMA requests and show them to customers in My Account area. Clients will not be able to create a request without accepting the RMA policy.
Total control over every aspect of the extension:
return period for products after order completion;
forbidden filename extensions for uploading;
maximum attachment size;
the text for shipping confirmation dialog;
etc.
Flexible email notifications management

This Magento extension allows defining who will receive RMA notifications – the store admin, the customer, or both. Owners can even create a separate RMA department with specified email and address.
Requests history

Our Magento extension retains an unlimited history of all RMA requests. Administrators can export all requests to CSV and have the data at your disposal anytime.
Intuitively understandable frontend interface

Having selected the required order and products, customers can choose the request type, specify the package condition, attach a file, add a couple of words as comments, and agree with RMA policy.
Option to return one product per order

If customers bought several items per order, they can select which of them they want to return.
Ability to refund/replace separate bundle product components

If customers bought bundle products, they can select which components they want to return.
Anonymous RMA

Guests can make an RMA request – everything they should specify is the email address and order ID.
Ability to create RMA request from backend

The Magento module allows store administrators to create return merchandise authorization requests for orders in one click from the backend.
RMA requests grid on the order page

With the RMA extension, administrators can track and control the return or exchange of items sold to customers exactly on the Order page.
Multistore support

Store view can be specified for each request type and status.
"Through planning, efficient coding, relentless implementation, and data analysis, we have been changing the face of e-marketing," stated Robert Hadland, Sales Secret LLC representative. "Now with this RMA extension for Magento, the game has been taken to an entirely different level."
Sales Secret offers their prospective customers six ways to ignite their sales:
Segment marketing efforts
Optimize for mobile engagement
Build relationships with customers
Localize whenever possible
Act on analytics and available metrics
Cultivate useful loyalty programs
Utilizing tools such as Magento e-commerce website development, custom Magento extension development, Magento Business Intelligence Dashboard integration, and Magento SEO services; Sales Secret has been serving their customers marketing and development needs to increase their sales and profitability.
For more information, visit http://www.salessecret.com/georgia/atlanta-magento-developer.html or call 888 553-9113 to speak with an Atlanta (Georgia) Magento Developer today.