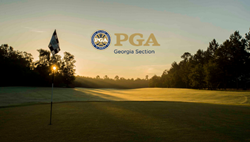 "It's such an honor to be recognized by the Georgia PGA, but I couldn't have done it without the incredible team at The Club at Savannah Quarters®." Jonathan Mattox, Director of Golf, Savannah Quarters®
SAVANNAH, Ga. (PRWEB) May 15, 2020
The Club at Savannah Quarters® Director of Golf Jonathan Mattox was named 'Merchandiser of the Year – Private Category,' and PGA Head Golf Professional Cody Carter was named 'Teacher of the Year' by the Georgia PGA. Both were recognized at the 13th Annual Georgia PGA Special Awards and Weir Scholarship Banquet held at Truist Park in Atlanta.
The Merchandiser of the Year Award was established in 1978 by The PGA of America and Sports Illustrated to honor PGA professionals in three categories – public, private and resort – who have excelled as businessmen/merchandisers in the promotion of golf.
"It's such an honor to be recognized by the Georgia PGA, but I couldn't have done it without the incredible team at The Club at Savannah Quarters®," said Mattox, who was elected to PGA membership in 2007.
Mattox has been the Director of Golf at The Club at Savannah Quarters® since 2017.
The Teacher of the Year Award was inaugurated in 1986 to honor teachers of golf among the ranks of the PGA of America membership. The award is based on the professional's overall performance in teaching, innovative and specialized teaching programs the professional has played a key role in implementing and articles written in books and magazines.
Carter, a former United States Marine and current member of the PGA of America, has been the PGA Head Professional at The Club at Savannah Quarters® since 2018. He has earned many certifications and accolades throughout his career.
"I've taught tour players and beginner golfers," said Carter. "My goal is to help players become better players and enjoy this game of a lifetime, so I'm thrilled to be recognized as Teacher of the Year for doing something I love."
The Club at Savannah Quarters® features a private 18-hole Greg Norman Signature course. A quintessential Southern golf course, it is playable year-round and was voted 2019's Best of the Best Golf in Savannah by Savannah Morning News. The par-72, 7,066-yard course weaves through lagoons, natural areas and groves of towering cypress and live oak trees. The signature 15th hole offers a unique island green that overlooks a peaceful lagoon.
Learn more at SavannahQuarters.com.
About Savannah Quarters®
Savannah Quarters® is a premier new home community in the southeast located 12 miles west of the Savannah city center in Pooler. The 2,600-acre masterplan community offers charm, relaxation, beauty and recreation. The fun and relaxed Club at Savannah Quarters® features resort-style amenities such as fitness, tennis, swimming and a stunning clubhouse with year-round dining and gracious Southern service. Residents can also enjoy the 18-hole Greg Norman Signature Golf Course woven throughout the community. Future plans include new residences and new adventures for every generation. To schedule a tour and find your dream home, please call 912.450.2300 or visit http://www.SavannahQuarters.com.
###