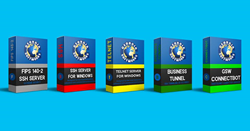 The GSW software always stays updated and on the cutting edge of technology, so it was time that our boxes reflected that
DAWSONVILLE, Ga. (PRWEB) August 06, 2019
Georgia SoftWorks has launched a resdesign of their line of product boxes. The new boxes offer a visually fresh way to view their products, the GSW Telnet Server for Windows, SSH Server for Windows, SSH Client for Android and more.
The revamped design remains consistent with the old color scheme. With the same colors on the old box to the new box, each Georgia SoftWorks product (their Windows Telnet Server, Windows SSH Server, FIPS 140-2 Compliant SSH, the Business Tunnel and the GSW ConnectBot) stays easily identifiable to people who were familiar with the old boxes.
The new design drops the image of the CD's on each product box and moves to a cleaner and more contemporary design.
"We wanted a more modern, fresh look for the product boxes. We've had our product box line for over 20 years. The GSW software always stays updated and on the cutting edge of technology, so it was time that our boxes reflected that," said Johnny Douglas of Georgia SoftWorks. "When we started selling software, we would actually send the software to the customer on Compact Disks, which is why the old product boxes have CD's on them. Now, our software is downloaded on the internet, so the CD on the box seemed unnecessary."
The new product box line goes in conjunction with the newly redesigned Georgia SoftWorks website. The new website provides users a clean, uncluttered design that incorporates improved functionality and enhanced content. In addition to improved design features, the new website offers quick and easy access to essential information and features that offer an easily navigable way to view the GSW software products.
About Georgia SoftWorks:
Established in 1991, Georgia SoftWorks is a privately held software development company recognized for creating high performance data communications, system and telecommunications applications. Georgia SoftWorks has obtained a worldwide presence with its industrial SSH/Telnet Server for Microsoft Windows. GSW's long-term commitment to SSH/Telnet has led to the pioneering of major features such as Session Shadowing, Session Monitoring, Graceful Termination, Automatic Logon, Logon Scripting and Team Services technology which allows mobile device users to transfer, swap, share and recover mobile device sessions. Most recently, Georgia SoftWorks has launched their GSW ConnectBot, a SSH/Telnet Client for Android. The GSW ConnectBot is the most cryptographically secure, commercially supported SSH client for Android, only on par with the GSW SSH Client for Windows