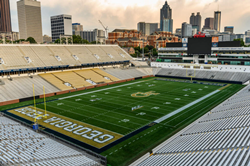 Georgia Tech and Shaw have a long history of collaborating on various projects and we're excited and grateful to work with them once again.
ATLANTA (PRWEB) September 10, 2020
The stage is set and the season is about to start. Bobby Dodd Stadium and Historic Grant Field, home of Georgia Tech football, has completed major renovations including the addition of an artificial turf playing surface. Historic Grant Field now features Shaw Sports Turf's state-of-the-art Legion NXT turf system with Geofill infill, and NXTPlay performance shock pad. Georgia Tech's first home game will be played on September 19th against the UCF Knights.
The removal of historic Grant Field's previous natural grass turf began in late May and the installation of the new Shaw turf system was completed in late July.
Georgia Tech decided to change to synthetic turf for a number of reasons, rooted in the safety, playability, and overall experience for student athletes and the Georgia Tech community.
"The switch from natural grass to artificial turf was made with maximizing our ability to use Bobby Dodd Stadium and Historic Grant Field," explains Georgia Tech director of athletics Todd Stansbury. "An artificial surface will allow our student-athletes and teams to utilize the field more often for training and practice. Additionally, it will give us the opportunity to host more outside events that appeal to our students, fans, and the Atlanta community, including concerts and other sporting events."
Natural grass fields have limitations that synthetic turf simply does not. A synthetic turf field opens up accessibility for schools looking for more access to their own facilities. The benefits, particularly for a large school like Georgia Tech, are immense.
Georgia Tech athletics said in a press release announcing the project that Grant Field actually had an artificial surface for 25 seasons, from 1971-1994. This new turf installation marks the return of artificial turf at Bobby Dobb Stadium.
For this project, Shaw Sports Turf is installing 83,822 square feet of the Legion NXT system, Shaw Sports Turf's newest fiber system featuring the exemplary ThunderBolt Fiber. Legion NXT is a hybrid system that offers realistic aesthetics with an electrifying degree of durability. This system is built for strength, built for pushing the envelope and providing endurance through even the toughest of match-ups. It is 20 percent more robust and shows minimal signs of wear up to 80,000 lisport cycles.
The field will also be fitted with Shaw Sports Turf's most popular infill material, Geofill. Geofill is 100% natural and plays natural resulting in a perfect balance of Vertical Deformation, Rotational Resistance, and Energy Restitution. The Geofill infill used in the system is made of coconut husks and fibers, which is a rapidly renewable resource. The infill requires much less water than natural grass, thus resulting in significant levels of conservation.
Continuing with a theme of sustainability, the performance shock pad used in the installation is Shaw Sports Turf's latest innovation. A pad with superior performance that is made using recycled artificial turf fields. One pad produced equals one artificial turf field kept out of the landfill.
"While our outstanding grounds crew has consistently produced the nation's best natural grass football field, Shaw Sports Turf's Legion NXT turf system will provide our student-athletes with the safest, most consistent playing surface available today," explains Stansbury. "Additionally, installing an artificial surface will allow us to utilize Grant Field 365 days a year, as opposed to the very limited number of events, practices and workouts that can safely be held on a natural surface. The switch to an artificial field will allow Bobby Dodd Stadium to continue as one of college football's best stadiums, as well as become a space that the entire campus community can enjoy more often, and evolve into one of the Southeastern United States' premier entertainment venues."
Additional upgrades as part of this renovation included a new fan-and-energy-friendly LED lighting system, a new sound system, improved stadium signage, fresh paint throughout the facility, and a refresh of restrooms throughout the stadium.
"I'd like to thank our long-time partners at Shaw for working with us to make this project a reality," said Stansbury. "Georgia Tech and Shaw have a long history of collaborating on various projects and we're excited and grateful to work with them once again."
ABOUT SHAW SPORTS TURF
A wholly-owned subsidiary of Berkshire Hathaway Inc., Shaw Industries is a full flooring provider to the residential and commercial markets. Shaw supplies carpet, hardwood, laminate, resilient, and tile/ stone flooring products, as well as synthetic turf. Shaw Sports Turf is one of the leading synthetic turf companies in North America and has represented quality and innovation for more than two decades with over 3,500 successful installations, including an impressive list of high-profile field installations. For more information please visit http://www.shawsportsturf.com, call 866-703-4004 or find us on Facebook, Twitter, Linkedin and Instagram.