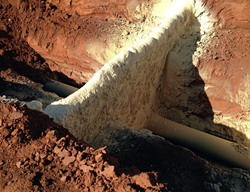 A strong connection with our customers allows us to be innovative problem solvers – a role we are very proud to attain in the spray polyurethane foam industry
San Diego, Calif. (PRWEB) October 09, 2015
Rhino Linings Corporation (http://www.rhinolinings.com), a global leader in protective coatings, announces the release of Rhino Linings® GeoTech CC2TB, a 100% water-blown, closed-cell spray polyurethane foam (SPF) system designed for exterior ditch breaker, soil stabilization and geotechnical applications.
GeoTech CC2TB is formulated with advanced, proprietary chemistry that lowers its exothermic reaction temperature during installation, allowing contractors to apply in one continuous spray lift of well beyond 4 inches without compromising applicator safety or foam combustion. It cures quickly, forming a thick skin so contractors may install successive lifts without significant foam blowout or pooling.
"Our expansion and evolution in the spray polyurethane foam sector has been well received globally," said Pierre Gagnon, president of Rhino Linings Corporation. "The proven success of our existing spray foam systems has led us to expand our product offerings and introduce new solutions like GeoTech CC2TB."
GeoTech CC2TB expands 30 times its size and because it is water-blown, contractors are able to preheat or recirculate without causing damage or material loss. Unlike traditional soil stabilization and trench breaker solutions, GeoTech CC2TB spray polyurethane foam only requires a single individual to install and will not rot or breakdown when covered with soil.
"We actively listen to our customers' concerns that materialize in the industry," stated Dave Feitl, director of global SPF sales for Rhino Linings Corporation. "A strong connection with our customers allows us to be innovative problem solvers – a role we are very proud to attain in the spray polyurethane foam industry."
To learn more about GeoTech CC2TB and Rhino Linings Corporation's extensive line of spray foam products and industrial coatings, visit http://www.rhinoliningsindustrial.com.
About Rhino Linings Corporation
Rhino Linings Corporation, established in 1988 and headquartered in San Diego, California, is a privately-held corporation and world leader in protective coatings and linings. Products manufactured and distributed by Rhino Linings Corporation include polyurethane, polyaspartic and epoxy coatings, concrete coatings, spray foam insulation and sealants, and interior and exterior stucco. Rhino Linings Corporation has a global retail and industrial applicator network consisting of more than 2,000 independently owned and operated businesses in almost 80 countries and is the first company in the sprayed-on bed liner industry to achieve ISO 9001 certification. For more information about Rhino Linings Corporation, call 858-450-0441 or visit http://www.rhinolinings.com.