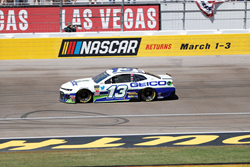 "It was very attractive to eliminate the headaches of hardware and IT management. Onshape lets us focus on what we care about most – our cars." – Matt Borland, Crew Chief
CAMBRIDGE, Mass. (PRWEB) November 08, 2018
Germain Racing, which exclusively competes in the Monster Energy NASCAR Cup Series, has chosen Onshape as its primary CAD system. The team, which races the No. 13 GEICO Camaro ZL1, is currently upgrading its cars to meet the new 2019 design requirements for NASCAR.
"NASCAR just came out with a new aerodynamic package for next year to try to change the way cars handle around each other," says engineer Matt Borland, Crew Chief for Germain Racing. "Some of our specific changes include a different splitter and different radiator pan in the front and a different spoiler in the rear. Onshape made the process extremely easy. To be able to make the design changes, run CFD simulations and get the results within a day and a half is pretty awesome."
"When we were using our previous CAD system, it typically might require a couple of months of prep work just to get to the point where we could be running CFD cases," he adds.
For Computational Fluid Dynamics (CFD) testing, Germain Racing uses SimScale, a Connected Cloud Application in the Onshape App Store. Without any upfront fees, downloads or installs, Onshape users can instantly import their 3D CAD models to SimScale to analyze them.
"We're delighted to help Germain Racing speed up their design process, which will hopefully lead to speedier results on the track," says Joe Dunne, Onshape's Director of Developer Relations. "Onshape is not just about advanced modeling tools or built-in data management, it's also a complete engineering solution."
Borland said he was initially attracted to Onshape because it requires zero IT overhead – no installs, downloads, license codes or server maintenance – and because his company would not need to invest in high-performance workstations typically needed to run CAD or simulation software. Onshape runs on any computer, phone or tablet, with its Android and iOS mobile apps offering full CAD system functionality (versus being solely a viewer app for 3D models).
"We run a very lean operation at Germain Racing and it was very attractive to eliminate the headaches of hardware and IT management," says Borland. "Being in the cloud is a huge plus for us. I can be sitting in my hotel room with my laptop or out on the track and be making design changes. Onshape lets us focus on what we care about most – our cars."
About Germain Racing
Based in Mooresville, North Carolina, Germain Racing was founded in 2004 by Bob Germain Jr., a third-generation automobile dealer. Germain Racing was crowned with its first NASCAR Camping World Truck Series championship in 2006 – just 26 months after first joining the NASCAR ranks. The team earned a second championship in 2010 and 22 wins during its eight years of competing in the Truck Series.
Sponsor GEICO and Germain Racing joined the Monster Energy NASCAR Cup Series in 2009 and Germain has competed exclusively in this premier division since 2012. Other Germain Racing partners include Twisted Tea, Chevrolet, Mobil 1, Wagner Family of Wine, Caymus Vineyards, Sherwin Williams, Lincoln Electric and ZAK Products. For more information, contact contact@germainracing13.com or visit GermainRacing.com.
About Onshape
Onshape is a modern CAD system that eliminates design gridlock: the constant waiting, distractions, and hassles that prevent engineers from doing their best work. Onshape unites advanced 3D modeling tools and design data management in a secure cloud workspace that is accessible on any device and never loses data. With no files to lose or corrupt, no license keys to manage, and no installed desktop software, Onshape helps engineering teams get out of the IT business so they can get back in the innovation business.
Professional engineers at thousands of companies rely on Onshape to modernize and streamline their product design and manufacturing process. Onshape users in 170+ countries have logged over 5 million hours modeling advanced robotics, biomedical devices, industrial machinery, agriculture equipment, and consumer products. With 1 of 8 sessions occurring on mobile devices, Onshape is the world's first anywhere, anytime CAD system.
Founded in 2012, Onshape has raised $169 million from Andreessen Horowitz, NEA, North Bridge, and other leading investors. Based in Cambridge, Massachusetts, the Onshape leadership team includes the original creators of SOLIDWORKS® and other proven leaders in cloud infrastructure, data security, and mobile. For more information, contact dgarnick@onshape.com or visit onshape.com/press-room