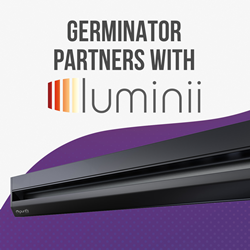 We are always innovating to provide our customers with the highest quality of products and services on the market, and our partnership with Luminii accomplishes just that, further strengthening our lineup of Safe Zone Solutions. - Jeff Gill, Founder and CEO of Germinator
CUMMING, Ga. (PRWEB) September 01, 2021
Continuing to solidify its standing as a key player in the sanitizing and disinfecting industry, Germinator is proud to announce its newest channel partnership. The national franchise has partnered with Luminii®, an industry-leading commercial lighting and LED manufacturer, and is now offering the PURIFII™ AER W architectural-grade upper-air germicidal LED lighting platform as a part of its Germinator Safe Zone Solutions.
The next generation of protection for the new generation of germs, Germinator provides its customers with 360-degree germ protection, 365 days a year, creating Germinator Safe Zones in the spaces where people work, live, and play. The company presents a full portfolio of Safe Zone Solutions, a unique blend of services and products designed to help people safeguard and future-proof their environments. Their partnership with Luminii further expands the company's reach as it continues to offer businesses across the country with the most advanced protection against germs, bacteria, and viruses.
"We are proud to welcome Luminii as our newest channel partner," said Jeff Gill, Founder and CEO of Germinator. "We are always innovating to provide our customers with the highest quality of products and services on the market, and our partnership with Luminii accomplishes just that, further strengthening our lineup of Safe Zone Solutions. Germicidal LED lighting is a new concept to many people, and our customers are just as excited as we are, especially those who own businesses. The PURIFII systems are an ideal solution for large spaces and an excellent choice for those working in all industry types. They are safe, discreet, fast and highly effective."
PURIFII AER W systems by Luminii are 99.98% effective against germs, bacteria, and viruses. The third-party testing was done by Innovative Bioanalysis, and the study was funded by Luminii.
The PURIFII GUV (germicidal ultraviolet) product platform is engineered with industry-proven UV-C technology to eliminate or reduce most viruses, including SARS-CoV-2, bacteria, and other microorganisms in the air. Safe, effective, discreet, and easy to install, the PURIFII series of GUV architectural-grade lighting products are available in either remote or integrated power options enabling lighting designers and architects to create healthy spaces for their clients with ease.
All PURIFII GUV products feature unique physical aesthetics underscored by advanced third-party testing to ensure safety and effectiveness in occupied and unoccupied environments. With over 40 years of research and real-world examples that support the disinfection of viruses, bacteria, mold spores, and fungi safely in the air, germicidal ultraviolet products are an ideal solution to create healthier indoor experiences. The PURIFII GUV platform is designed to be extremely versatile, supporting even the trickiest of applications with ease. PURIFII systems require minimal to no maintenance once installed, keeping businesses on track.
PURIFII AER W systems are installed to create a contactless, uniform, germicidal zone in the upper portion of the room. Whether it is a reception area, ballroom, fitness center, or other common areas, germicidal lighting is an effective way of supporting existing cleaning protocols while addressing airborne pathogens and contaminated surfaces at a much larger scale.
"Luminii is thrilled to partner with the Germinator team by bringing new GUV solutions into the Safe Zone portfolio," said Amy Bonder, Executive Vice President of Sales and Marketing for Luminii. "PURIFII creates a new layer of disinfection options for their core customers, enabling them to get their businesses back on track with renewed confidence. We took special care when crafting PURIFII, incorporating thoughtful details, optics expertise, and conducting meticulous research throughout the entire process to bring state-of-the-art GUV solutions to the market."
Germinator uses advanced antimicrobial science, and their patent-pending methodology not only sanitizes and disinfects, but provides proven, next-level protection to safely kill viruses, bacteria, and other contaminants for a more livable, touchable Germinator Safe Zone. It's time to reclaim the spaces where we work, live, and play. Visit https://www.germinator.com or call 855-664-3769 to get your Germinator Safe Zone started today! For more information on Luminii® and the PURIFII™ architectural-grade germicidal LED lighting systems, please visit https://www.germinator.com/led-uvc-lighting/.