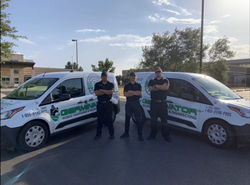 We are thrilled to have been awarded a vendor contract within TIPS, said Jeff Gill, CEO of Germinator. This contract reduces the hassle and speeds up the process for organizations, allowing us to immediately begin sanitizing and disinfecting to help facilitate a safe and efficient reopening.
ATLANTA (PRWEB) August 24, 2020
A national leader in a fast-growing industry, Germinator Mobile Sanitizing and Disinfecting is proud to announce that they were recently awarded a contract by The Interlocal Purchasing System (TIPS).
Based in Texas and consisting of over 11,000 Members, The Interlocal Purchasing System, more widely known as TIPS, is a successful and growing national purchasing cooperative. TIPS is a department of Region 8 Education Service Center, a governmental entity, located in Pittsburg, Texas. When permitted by law - instead of customers expending time, money, and resources on the extensive competitive bidding process - the use of TIPS permits public entities to quickly select and purchase work directly from Germinator since the company has already been competitively procured according to applicable state and federal bid laws.
"We are thrilled to have been awarded a vendor contract within TIPS," said Jeff Gill, CEO of Germinator. "The current pandemic has created a difficult situation for school districts and organizations who are trying to figure out how to reopen safely and in a timely manner. This vendor contract reduces the hassle and speeds up the process for these organizations, allowing us to immediately begin thoroughly sanitizing and disinfecting to help facilitate a safe and efficient reopening."
In addition to the TIPS contract, Germinator was recently awarded a vendor contract with TexBuy Purchasing Cooperative, which enables the company to perform work for the 62 school districts in Region 16 and additional districts and entities throughout the state of Texas.
Germinator provides a 100% safe and non-toxic sanitizing and disinfecting process, utilizing breakthrough technology scientifically proven to help reduce the threat of harmful bacteria and viruses similar to the novel coronavirus. Germinator is revolutionizing the industry, recently introducing the addition of ATP monitoring to its service offerings as part of a now patent-pending methodology. ATP monitoring allows Germinator to test surfaces for the potential presence of living microorganisms in as little as 10 seconds prior to sanitizing and disinfecting.
The company's two-step process first sanitizes and disinfects surfaces and then provides surfaces with long-lasting protection against the growth of odor-causing bacteria, other types of bacteria which cause stains and discoloration, fungi such as mold and mildew, and algae.
The first step - Genesis - harnesses the power of hypochlorous acid (HOCl) to destroy bacteria, mold, mildew, viruses and odors caused by bacteria. HOCI is a non-toxic, near-neutral pH, hospital-grade sanitizer and disinfectant. The second step applies the Germinator's Shield - an invisible microbial coating that protects surfaces for an extended period of time against the growth of mold, mildew and odor-causing bacteria. Both products are EPA registered and safe for humans, pets and the environment. The company's highly trained field specialists employ best practices using electrostatic sprayers and wear Personal Protective Equipment (PPE) as appropriate.
Upholding the highest standards of sanitization and disinfecting, Germinator makes claims that are scientifically supported and within EPA regulations. Germinator's research and process are validated by the Germinator Scientific Advisory Board. The board is made up of key leaders such as Dr. Roscoe M. Moore, Jr - who was an Assistant to the United States Surgeon General for five administrations - and Dr. David Miller, the Protocol Chair of University of Rochester Center for AIDS Research Community Advisory Board.
Dr. Miller, supports Germinator's process by saying, "The Germinator Genesis platform and the Shield microbial barrier application are at the forefront for facilities' remediation of infectious diseases. This allows patients, providers, consumers, and commuters to have a high degree of confidence in the facility's safety, which is an absolute necessity during the current COVID-19 pandemic."
Germinator was founded in 2015 with the vision of providing a safe, effective and non-toxic method of proper sanitizing and disinfecting for businesses and households.
The company continues to expand across the country, providing communities with a proactive solution to help free environments from harmful germs, bacteria, and viruses. With Germinator, society can now have peace of mind and the freedom to live or work in a sanitized and disinfected environment. For more information, visit http://www.thegerminator.com.