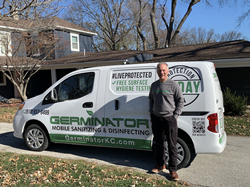 I am proud to be a part of the Germinator team to provide an essential service to the members of my community, said Steve Kurtz.
KANSAS CITY, Mo. (PRWEB) November 24, 2020
Germinator Mobile Sanitizing and Disinfecting, a broad-spectrum disinfection, sanitizing and deodorization provider, is continuing to rapidly grow across the United States. The company is pleased to announce its expansion into the state of Missouri, opening a location in Kansas City.
Germinator Kansas City will be owned and operated by Steve Kurtz, who brings a strong background in business ownership and management to the company. A native of Lee's Summit, Kurtz is a Mechanical Engineering graduate of Missouri University of Science & Technology. He spent the early part of his career in manufacturing management in the carpet industry before purchasing two HVAC companies and starting a One Hour Heating & Air Conditioning franchise in 2008. Kurtz has grown his business from scratch and was named a Top 25 franchisee in 2020 by the One Hour Heating & Air Conditioning group within Authority Brands. He decided to open a Germinator franchise to fill a need in the market for effective sanitizing and disinfecting so that he can provide businesses and residents throughout his community with a new generation of microbial protection.
"I am proud to be a part of the Germinator team to provide an essential service to the members of my community," said Kurtz. "I first started looking into sanitizing and disinfecting companies after many of my heating and air conditioning clients would bring up concerns regarding the best ways to help keep their environments secure from germs, bacteria and viruses. Germinator is the best in the business. Their methods are proven effective and they put a very high value on professionalism and the highest quality customer service. I'm looking forward to launching the Kansas City franchise."
Germinator was founded by Jeff Gill in 2015 with the mission of providing an effective method of sanitizing and disinfecting. The company launched national franchising in December 2019 and continues to rapidly expand across the country.
"Steve is the perfect addition to spearhead our launch into Missouri," said Gill. "He has a proven track record of leading successful companies, and he has established strong relationships throughout Kansas City and beyond. We are proud to welcome him to the Germinator family."
Germinator's patent-pending methodology is the most unique and cost-effective means of providing enhanced antimicrobial protection for businesses and residences. The company first tests surfaces for ATP using a luminometer to detect light that can come from cellular activity. This measurement immediately provides the level of clean on a surface.
The next step is the application of Germinator's Genesis surface treatment. Genesis is a one-step cleaner and broad-spectrum sanitizer and disinfectant treatment that harnesses the power of hypochlorous acid (HOCl). Derived from naturally occurring minerals, Genesis not only eliminates odors at their source, but kills a wide range of bacteria including Staphylococcus aureus, MRSA, Salmonella enterica and Pseudomonas aeruginosa, and viruses including norovirus, rotavirus and adenovirus on hard, non-porous, environmental surfaces. It meets the Association of Official Agricultural Chemists (AOAC) germicidal spray standards for Hospital Grade Disinfection and is on the EPA's N List of products determined to meet the criteria for use against SARS-CoV-2, the virus that causes COVID-19. As a result, this treatment will eliminate bacteria and viruses that may reside in your home or business without the use of harsh chemicals or fumes.
Following Genesis, Germinator applies its Shield, a water-based quaternary ammonium compound that imparts a durable bacteriostatic finish. It is EPA-registered as effective against mold, mildew, algae and odor-causing bacteria. This application creates an invisible barrier that combats deterioration and discoloration and promotes freshness for up to three months.
The Genesis and Shield products are applied by using an electrostatic sprayer, which is the most efficient and effective means of delivering the products to the intended application sites. After Germinator's surface treatment and protectant services, the company retests ATP levels to ensure the surfaces have achieved the intended results.
Upholding the highest standards of sanitization and disinfecting, Germinator makes claims that are scientifically supported and within EPA regulations. Germinator's research and process are validated by the Germinator Scientific Advisory Board. The board is made up of key leaders such as Dr. Roscoe M. Moore, Jr. —who was an Assistant to the United States Surgeon General for five administrations; Dr. Harold Smith, who has extensive expertise in cell biology, molecular biology and biochemistry, along with decades of experience leading sponsored research on infectious diseases for the National Institutes of Health (NIH); Dr. David Miller, the Protocol Chair of University of Rochester Center for AIDS Research Community Advisory Board; and Chad S. Johnson, Esq., a Harvard-trained corporate, legislative, and regulatory attorney with significant experience in advising health and biotechnology companies.
"During these unprecedented times, the need to focus on sterilizing agents within our country's airports, public spaces and offices in order to decrease the spread of viral pathogens such as Coronavirus is essential," states Dr. Moore. "I am extremely happy to be a part of the Germinator team and lend my expertise in public health and regulatory affairs to what I feel is an immense asset to the containment effort."
With Germinator, society can now have greater peace of mind and the freedom to live or work in a sanitized and disinfected environment. Businesses and residents in Kansas City can learn more by visiting https://www.germinatorkc.com/ or calling (816) 710-4376.