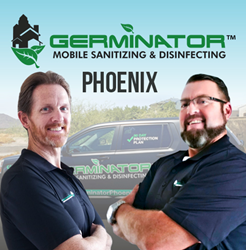 Now, more than ever, businesses and residents are relying on high-quality sanitizing and disinfecting services to keep their homes and businesses safe, said Cook. I wanted to do my part in restoring confidence to the community by helping create comfortable environments.
PHOENIX (PRWEB) August 31, 2020
Continuing on its rapid national expansion - Germinator Mobile Sanitizing and Disinfecting - a broad-spectrum sanitization, disinfection and deodorization provider - is proud to announce it has opened doors in Phoenix, Arizona. The company will offer door-to-door sanitizing and disinfecting services for businesses and residents throughout the area.
Germinator provides a 100% safe and non-toxic sanitizing and disinfecting process, utilizing breakthrough technology scientifically proven to help reduce the threat of harmful bacteria and viruses similar to the novel coronavirus.
Best friends since childhood, Greg Cook and Robert Blankenship will own and operate Germinator Phoenix. An Arizona resident of nearly 30 years, Cook resides in Phoenix with his wife Annette; their four children Kelsey, Kylie, Dylan, and Austin; and his parents, who live a short drive away in Prescott. He was motivated to open a Germinator franchise as a way to play a front-line role in helping to keep the community safe.
"I've spent most of my life in Arizona and it's where I've built my family and career," said Cook. "I've developed a true love for the community and couldn't imagine living anywhere else. Now, more than ever, businesses and residents are relying on high-quality sanitizing and disinfecting services to keep their homes and businesses safe as we try our best to go about our daily lives. I wanted to do my part in restoring confidence to the community by helping create comfortable environments."
Having previously lived in Phoenix, Blankenship – who now resides in Miami, Florida - has ties to the community and a passion for the Germinator brand. He is the founder and CEO of WebFindYou, the first All-In-One Digital Marketing Technology that provides companies, agencies, and freelancers with a more streamlined and efficient way to maximize a company's online visibility and grow their brand, leads, and sales with less hassle, reduced costs and increased revenues. Through WebFindYou, Blankenship has spearheaded the successful launch of all 21 Germinator franchises. His passion for the brand led him to embark on the opening of Germinator Phoenix.
"I truly believe in the Germinator brand and have witnessed firsthand how big of a role these franchises have played in helping to keep communities across the country safe during these difficult times, especially without the use of harsh and toxic chemicals," said Blankenship. "Germinator Phoenix allows us to fill a void in the market, giving the community access to a top-notch sanitizing and disinfecting process that is followed with an application of long-lasting protection from mold, mildew, and odor causing bacteria."
Germinator - which is headquartered in Atlanta - was founded by Jeff Gill in 2015, with the vision of providing a safe, effective and non-toxic method of proper sanitizing and disinfecting for businesses and households. Since February, the company has launched Germinator locations in major cities across the U.S.
"We're excited to welcome Robert and Greg to the Germinator family to spearhead our launch into the Arizona market," said Gill. "I've worked with Robert for eight years now, and he has a true understanding of the vision and mission of the company. We're confident that the Phoenix franchise is going to be extremely successful."
Germinator utilizes a two-step process to sanitize and disinfect surfaces as well as provide long-lasting protection against odor-causing bacteria, bacteria which cause stains and discoloration and fungi such as mold and mildew, and algae. The first step - Genesis - harnesses the power of hypochlorous acid (HOCl) to destroy bacteria, mold, mildew, viruses and odors caused by bacteria. HOCI is a non-toxic, near-neutral pH, hospital-grade sanitizer and disinfectant. The second step applies the Germinator's Shield - an invisible microbial coating that protects surfaces for an extended period of time against the growth of mold, mildew and odor-causing bacteria. Both products are EPA registered and safe for humans, pets and the environment. The company's highly trained field specialists employ best practices using electrostatic sprayers and wear Personal Protective Equipment (PPE) as appropriate.
Upholding the highest standards of sanitizing and disinfecting, Germinator makes claims that are scientifically supported and within EPA regulations. In an effort to research and further validate its practice of sanitizing and disinfecting surfaces, the company recently created the Germinator Scientific Advisory Board. The board is made up of key leaders such as Dr. Roscoe M. Moore, Jr - who was an Assistant to the United States Surgeon General for five administrations.
"During these unprecedented times, the need to focus on sterilizing agents within our country's airports, public spaces, and offices in order to decrease the spread of viral pathogens such as Coronavirus is essential," states Dr. Moore. "I am extremely happy to be a part of the Germinator team and lend my expertise in public health and regulatory affairs to what I feel is an immense asset to the containment effort."
The company continues to expand across the country, providing communities with a proactive solution to help free environments from harmful germs, bacteria, and viruses. With Germinator, society can now have peace of mind and the freedom to live or work in a sanitized and disinfected environment. Arizona businesses and residents can learn more by visiting https://www.germinatorphoenix.com or calling (602) 932-7406.