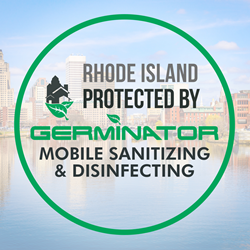 We're looking forward to working with Matt as we enter the Rhode Island market, said Jeff Gill, CEO of Germinator. Our continued expansion has helped us to better serve communities across the U.S. during such a difficult time.
PROVIDENCE, R.I. (PRWEB) September 08, 2020
Germinator Mobile Sanitizing and Disinfecting is pleased to announce the opening of its newest franchise, Germinator Rhode Island. The location will offer services to businesses and residents throughout Northern Rhode Island and its surrounding areas, providing a 100% safe and non-toxic sanitizing and disinfecting process. The company uses breakthrough technology scientifically proven to help reduce the threat of harmful bacteria and viruses similar to the novel coronavirus.
Germinator Rhode Island will be owned and operated by Matt Banoub. Prior to launching the franchise, Matt founded Aten Energy Conservation, a Rhode Island-based weatherization company. Since 2010, Aten Energy has helped over 1,700 Rhode Island homes earn the EPA's "Energy Star" designation. Their work over the last decade has earned Aten Energy numerous 'Century Awards' from the U.S. Department of Energy and the United States Environmental Protection Agency, as well as the 2019 Rhode Island SBA Microenterprise of the Year Award.
"The advancement of healthy housing and building science has been my life's work, but 2020 presented new challenges to keeping our indoor environments safe and hygienic," said Banoub. "Germinator Rhode Island utilizes a non-toxic treatment process to sanitize and disinfect your home or business, which is safe for you and your pets. We are committed to providing the highest quality mobile sanitizing and disinfecting services for residential, commercial and institutional clients in Northern Rhode Island and its surrounding communities."
Since February, Germinator has been on a rapid national expansion trajectory, launching in major cities across the U.S. with more in the pipeline for the coming months. The Atlanta-based company was founded in 2015 with the vision of providing a safe, effective and non-toxic method of proper sanitizing and disinfecting for businesses and households.
"We're looking forward to working with Matt as we enter the Rhode Island market," said Jeff Gill, CEO of Germinator. "Our continued expansion has helped us to better serve communities across the U.S. during such a difficult time. Matt has strong leadership experience and a track record of success, making him the perfect choice to lead Germinator Rhode Island."
Germinator utilizes a two-step process to sanitize and disinfect surfaces as well as provide long-lasting protection against odor-causing bacteria, bacteria that cause stains and discoloration, fungi such as mold and mildew, and algae. The first step — Genesis — harnesses the power of hypochlorous acid (HOCl) to destroy bacteria, mold, mildew, viruses, and odors caused by bacteria. HOCI is a non-toxic, near-neutral pH, hospital-grade sanitizer and disinfectant. The second step applies the Germinator's Shield — an invisible microbial coating that protects surfaces for an extended period against the growth of mold, mildew, and odor-causing bacteria. Both products are EPA registered and safe for humans, pets, and the environment. The company's highly trained field specialists employ best practices using electrostatic sprayers and wear Personal Protective Equipment (PPE) as appropriate.
Upholding the highest standards of sanitization and disinfecting, Germinator's claims are scientifically supported and within EPA regulations. In an effort to research and further validate its practice of sanitizing and disinfecting surfaces, the company created the Germinator Scientific Advisory Board. The board is made up of key leaders such as Dr. Roscoe M. Moore, Jr - Former Assistant United States Surgeon General for five administrations.
"During these unprecedented times, the need to focus on sterilizing agents within our country's airports, public spaces, and offices in order to decrease the spread of viral pathogens such as Coronavirus is essential," states Dr. Moore. "I am extremely happy to be a part of the Germinator team and lend my expertise in public health and regulatory affairs to what I feel is an immense asset to the containment effort."
The company continues to expand across the country, providing communities with a proactive solution to help free environments from harmful germs, bacteria, and viruses. Enjoy peace of mind and the freedom to live and work in a sanitized and disinfected environment. Area Businesses and residents interested in learning more can visit GerminatorRI.com or call (401) 386-3275.