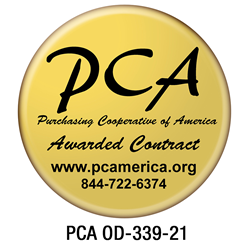 We look forward to working with PCA Members to provide them the highest quality of service so they can feel comfortable and secure knowing their environment has been thoroughly sanitized and disinfected. — said Jeff Gill, Founder and CEO of Germinator.
ATLANTA (PRWEB) March 09, 2021
Germinator Mobile Sanitizing and Disinfecting, a national leader in a fast-growing industry, is proud to announce that it has been awarded a vendor contract with the Purchasing Cooperative of America (PCA). The company's contract number is PCA OD-399-21.
The PCA is a national purchasing cooperative that's active in all 50 states, the U.S. Territories, Canada and Mexico. Its mission is to provide innovative, best-value contracts, employ the highest ethical standards in public procurement and provide time and money savings for its members and awarded contractors. The contract allows Germinator to perform work for PCA Members across the nation, including educational institutions, government agencies, Indian tribal governments, hospitals, law enforcement and non-profits.
"We are excited to have been awarded a vendor contract by the PCA," said Jeff Gill, CEO of Germinator. "We look forward to working with PCA Members to provide them the highest quality of service so they can feel comfortable and secure knowing their environment has been thoroughly sanitized and disinfected."
Germinator was founded in 2015 with the vision of providing an effective method of proper sanitizing and disinfecting for businesses and households. The company uses a patent-pending methodology and is the most unique and cost-effective means of providing enhanced antimicrobial protection for businesses and residences.
Germinator first tests surfaces for ATP using a luminometer to detect light that can come from cellular activity. This measurement immediately provides the level of cleanliness on a surface. The next step is the application of Germinator's Genesis surface treatment. Genesis is a one-step cleaner and broad-spectrum sanitizer and disinfectant treatment that harnesses the power of hypochlorous acid (HOCl). Derived from naturally occurring minerals, Genesis not only eliminates odors at their source but kills a wide range of bacteria, including Staphylococcus aureus, MRSA, Salmonella enterica and Pseudomonas aeruginosa, and viruses including norovirus, rotavirus and adenovirus on hard, non-porous, environmental surfaces. It meets the Association of Official Agricultural Chemists (AOAC) germicidal spray standards for Hospital Grade Disinfection and is on the EPA's N List of products determined to meet the criteria for use against SARS-CoV-2, the virus that causes COVID-19. As a result, this treatment will eliminate bacteria and viruses that may reside in an environment without the use of harsh chemicals or fumes.
Following Genesis, Germinator applies its Shield, a water-based quaternary ammonium compound that imparts a durable bacteriostatic finish. It is EPA-registered as effective against the growth of mold, mildew, algae and odor-causing bacteria. This application creates an invisible barrier that combats deterioration and discoloration and promotes freshness for up to three months.
The Genesis and Shield products are applied by using an electrostatic sprayer, which is the most efficient and effective means of delivering the products to the intended application sites. After Germinator's surface treatment and protectant services, the company retests ATP levels to ensure the surfaces have achieved the intended results.
Upholding the highest sanitization and disinfection standards, Germinator makes claims that are scientifically supported and within EPA regulations. The company's Scientific Advisory Board validates its research and processes and is responsible for reviewing and advising on product strategy and direction and assisting with navigating legislative and regulatory issues. The board includes industrial hygienists, epidemiologists, medical professionals, including a former United States Assistant Surgeon General for five administrations, as well as many respected members of the scientific community.
Germinator launched national franchising in 2019 and continues to expand across the country rapidly. With Germinator, society can now have greater peace of mind and the freedom to live or work in a sanitized and disinfected environment. For more information, visit http://www.thegerminator.com or call (855) 664-3769.