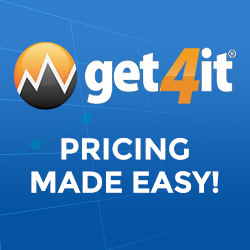 get4it is proud to partner with Bigcommerce to offer competitive pricing intelligence to online retailers of all sizes
Houston, Tx (PRWEB) March 05, 2015
get4it, a leading provider of cloud-based product pricing intelligence software, today announced a partnership with Bigcommerce to help online retailers learn how to competitively price their products for maximum profitability. As part of the Bigcommerce Marketplace Offers, the complete get4it pricing intelligence platform will be available to more than 60,000 merchants selling with the Bigcommerce platform. This will help online retailers identify which of their products need to be repriced, to help them sell more, in a simple to understand format.
"get4it is proud to partner with Bigcommerce to offer competitive pricing intelligence to online retailers of all sizes," said James DeBoe, CEO, at get4it. "We believe Bigcommerce is one of the best offerings for online retailers to bring their products to market. We are dedicated to offer every one of the 60,000+ Bigcommerce customers a competitive advantage through pricing intelligence."
get4it will bring a new level of integration, service and support for its clients selling with Bigcommerce.
Businesses of all sizes work with Bigcommerce to launch, promote, manage and scale successful online stores through its platform. Clients selling with Bigcommerce report selling 24% more in comparison to other platforms, and its merchants have collectively sold more than $5 billion worldwide.
Through this offer with Bigcommerce, https://www.bigcommerce.com/offers/get4it/ - get4it is giving online retailers 30% off for the first 90 days, plus a 14 day free trial.
get4it offers a full featured product pricing platform that empowers online retailers to price competitively, resulting in greater profitability. get4it connects directly to a merchant's store, imports the entire inventory, and computes the optimal selling price. Our easy to understand competitive ranking system identifies those products in need of repricing. The pricing algorithm takes into account more than just price, using seller feedback rating and other factors to ensure merchants are making the right pricing decisions based on all available data.
About get4it
get4it is a pricing intelligence platform that empowers retail merchants to gain a competitive advantage and ultimately increase sales through simple tools that execute intelligent pricing strategies. At get4it we have a single mission, to empower retail merchants to be ever more competitive through the use of easy to use intelligent tools. Our proprietary pricing intelligence platform allows for unrivaled visibility into your competitiveness in the marketplace.
get4it helps online retailers sell more, with offices in Fargo, Nd and Houston, Tx. For more information about Pricing Intelligence, Repricing, & Competitive Analysis for your products visit us at https://www.get4it.co/ or follow us on Twitter @get4it. Try us today, with a 14 day free trial. Look for more exciting updates to come!