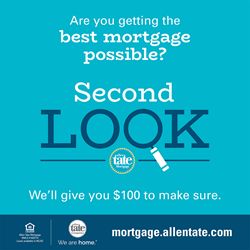 Second Look helps buyers make sure they're sure about their most important investment - Chris Cope, president, Allen Tate Mortgage
CHARLOTTE, N.C. (PRWEB) September 18, 2018
For many years, home buyers would engage a Realtor®, search for the perfect home and then, secure mortgage financing. Today, it's quite the opposite, as getting pre-qualified or pre-approved (even better) for a mortgage is usually the first step toward homeownership.
"Pre-approval helps a buyer shop confidently and write a contract quickly when they find the right home," said Chris Cope, president, Allen Tate Mortgage. "It gives a buyer a dollar figure to work with."
But this approach can have limitations, said Cope. And buyers need to be sure.
Second Look, a new program from Allen Tate Mortgage, offers buyers a no-obligation, second opinion on their home financing, early in the process – before financing is locked in.
"Home buyers deserve more than just a piece of paper with a number. Second Look helps buyers make sure they're sure about their most important investment," said Cope.
With Second Look, a buyer who has been pre-qualified or pre-approved with another lender, meets face-to-face with an Allen Tate Mortgage loan officer. During this meeting, the loan officer will talk with the buyer about their financial goals and objectives, review a variety of loan options and programs (including those that may be unfamiliar to the buyer) and understand and compare interest rates, fees, services and other pieces of the financial puzzle.
"Home buying is extremely personal. We believe a buyer needs – and deserves – a personal, face-to-face consultation, to make sure they have explored all possibilities and the financing is right for them – not the lender," said Cope.
"And while we believe this is what most buyers want and need, we understand that their time is very valuable," said Cope. "So we'll give them a $100 VISA gift card just for taking 30 minutes to meet with us – whether or not they decide to work with us."
Second Look is available on all loans programs offered by Allen Tate Mortgage. Buyers must present a verified documented quote from a legitimate lender.
Certain terms and conditions apply. For more information, contact an Allen Tate Mortgage loan officer or visit http://mortgage.allentate.com/why/promotions.