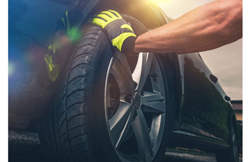 SANTA MARIA, Calif. (PRWEB) March 25, 2021
For residents of the Santa Maria area, now is a good time to purchase tires. For a limited time, the purchase of four qualifying tires may include a Visa Prepaid Card.
To be eligible to receive a Visa Prepaid Card, a customer must purchase a full set of four qualifying passenger General Tires. Depending on the tires purchased, the card may be loaded with either $50 or $70. Cards are delivered through a mail-in rebate.
This offer is valid at the Honda of Santa Maria dealership. Tires purchased must be installed or picked up between 9:00 a.m. on March 1, 2021, and 8:59 p.m. on April 30, 2021, in Santa Maria, California time.
The timing of this offer is convenient for vehicle owners seeking new tires during springtime. To purchase tires or schedule an appointment with the services and parts department at Honda of Santa Maria, shoppers are encouraged to call (805) 922-4600 or schedule an appointment online through the dealership's website. Services available at Honda of Santa Maria include front end alignment, coolant flush, electrical service, transmission flush, battery replacement, muffler and exhaust repair and more.
For other information about this or other offers, or to inquire about the stock of Honda vehicles available at Honda of Santa Maria, shoppers are encouraged to contact the dealership by phone at (805) 922-4600, through the chat function on the dealership site, or by visiting the location at 2175 South Bradley Road, Santa Maria, California, 93455.