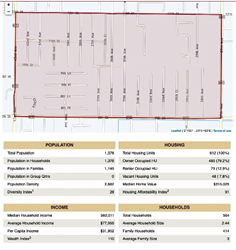 Discover the power of HomeTownLocator.new to inform your decisions; easy research for local area information.
MALABAR, Fla. (PRWEB) February 27, 2020
In Oct, 2019, Google launched the ". new" top-level domain (TLD) to the internet. Many businesses have created .new shortcuts that work to give users easier and faster ways to get things done.
Now HomeTownLocator.com (HTL), a leading online source of local information, data and maps, gives you HomeTownLocator.new, a unique, new resource designed to streamline your workflow when exploring any neighborhood. Just select a specific location and this tool will produce a summary of key facts and figures based on a methodology that has been proven to be the most accurate for neighborhoods.
For statistical purposes, neighborhoods, (small areas, as small as a few blocks with a few hundred households) are referred to as Block Groups by the Census Bureau and are referenced with numeric IDs.
JUMP IN TO CREATE AND LEARN
HTL's new action URL HomeTownLocator.new lets you jump straight into action fast to see thirty areas of detail for any U.S. neighborhood. You can either enter an address or click a spot on a map to select your area of interest; in three seconds you will have created a report that includes the following:
1. Basic Demographic Data on population, housing, income, and households.
2. Growth Rates for each geographical unit including historical growth rates and projected growth over the next five years.
3. Tool To Compare and Rank Areas for ranking neighborhood locations based on average home values, household income, and other demographic data. This tool gives one a better perspective for evaluating the data.
With this new Neighborhood Explorer tool, you can access a unique combination of information that helps you explore and analyze any area. And it is just one of many tools available on HomeTownLocator.com. Once you start exploring, you will discover other tools that give you access to rich information detail with unlimited uses. Go exploring!
ANY AREA, LARGE OR SMALL
HTL has impressive detail and boundary maps for over 217,000 neighborhoods, 29,000 cities, towns, villages and Census Designated Places (CDPs physically resemble towns, but do not have government functions), 3,000 counties and county equivalents, and 18,000 county subdivisions (such as townships, boroughs, census areas, etc.).
CURRENT INFORMATION, UPDATED REGULARLY
HomeTownLocator®, produced by HTL, Inc., is a popular resource for local information with an average of over a million unique visitors per month for the last 14 years. They are widely known and referenced for providing timely information. The demographic information and five-year forecast for every community is updated annually based on reliable sources including census detail. The school attendance zone maps and ZIP Code maps are updated quarterly. The geographic database of over two million physical and cultural features is updated six times per year.
UNIQUE SEARCH OPTIONS AND TOOLS
In addition, HTL offers a set of easy-to-use tools to review boundary maps and data for neighborhoods, cities, towns, school attendance zones, and ZIP Codes. Links to the "Top 20 Most Popular (Nearby) Places" are included on many pages. You can also easily compare, contrast, and rank cities and neighborhoods based on average home values, household income, diversity index and other demographic data. This is detailed local research made easy!
ABOUT HomeTownLocator.COM
The HomeTownLocator® series of state gazetteers, produced by HTL, Inc., has been a popular online resource for local information for over 14 years. In the last 12 months, the site has received over 16 million visits according to directly measured data by QuantCast.com.