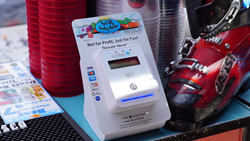 People like to donate when they've been emotionally affected; Instant Karma invites instant philanthropy.
SALT LAKE CITY (PRWEB) September 05, 2019
What if you could build karma using technology? Thanks to the launch of a new product, you can. Developed by Karma Payments, Instant Karma is a donation collection device for credit card and mobile pay transactions. It reinvents how organizations receive, and givers gift, donations.
This new tool is tailored for nonprofits, offering the lowest cost and highest-quality service possible. Instant Karma can be used anytime, anywhere to promote feel-good opportunities. It is portable, user-friendly (no attendant needed), and replaces cash/check donation boxes.
Small enough to be handheld, the standard device welcomes custom branding, accepts multiple donation amounts (the only equipment of its kind with this capability), and uses the 4G cellular network or LAN connection for payment processing. No service? No problem. The device can store up to 3000 transactions offline, processing them once a mobile connection is restored. Instant Karma's full potential is revealed when paired with a customized monitor that presents a dynamic multimedia experience to inspire and engage benefactors.
"Nonprofit champions can make in-person donations with greater ease, security, and more convenience than traditional cash contributions," says Chris Fleisch, co-founder and vice president, business development. "People like to donate when they've been emotionally affected; Instant Karma invites instant philanthropy."
Positive results: Instant Karma's tap your card option has raised the average one-time donation amount by 150 percent in pilot programs.
Safety first: All transactions are fully encrypted at the time of donation, and the device is completely tamper-proof.
Instant Karma provides comprehensive data to track annual donation totals, giving cycles (what goes around, comes around), and most profitable locations. Merchant services and user-education programs streamline operations, helping nonprofit organizations achieve their unique missions.
Three weatherproof Instant Karma models may be purchased, leased monthly, or rented per event:

Tabletop: Designed for use in a fixed location; beneficial in brick and mortar institutions.
Mobile: Accepts donations on-the-go, complete with an eight hour battery; advantageous for festivals and fundraisers.
Integrated: Connects with a custom-built monitor for a virtual, interactive display; valuable for creating impressive donation results.
All models are easy-to-use: No login or lengthy setup, simply power on and it is ready to accept funds.
"We are thrilled with our Instant Karma donation station," says Kate McChesney, director, Park Silly Sunday Market. "The self-serve kiosk is an easy way for market-goers to show us their appreciation, ensuring we'll stay not for profit, just for fun."
Instant Karma terminals accept donations from all Visa and MasterCard debit or credit cards, American Express, Discover Card, Apple Pay, Google Pay, and Samsung Pay.
About Karma Payments
Karma Payments' mission is to "Make a Positive and Lasting Impact in the World" by providing secure, purpose-driven, and innovative payment solutions for nonprofit partners, saving expensive processing fees. For more information about Karma Payments, their products, and services visit KarmaPayments.com or contact a nonprofit specialist at support(at)KarmaPayments(dot)com.