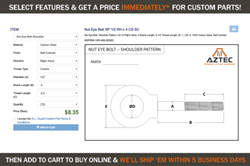 G.L. Huyett has developed an innovative new web-based tool that provides customers with instant quotes, part prints, and online checkout for custom lifting, rigging, and suspension hardware.
MINNEAPOLIS, Kan. (PRWEB) January 28, 2020
G.L. Huyett – a manufacturer and master distributor of non-threaded fasteners and lifting hardware for the distribution market– has developed an innovative new web-based tool that provides customers with instant quotes, part prints, and online checkout for custom lifting, rigging, and suspension hardware.
Shortly after G.L. Huyett acquired AZ Lifting Hardware in 2018, it became increasingly evident that the heavy lifting industry relies extensively on their vendor's abilities to provide custom solutions quickly to meet the needs of their customers. To that end, G.L. Huyett's distribution of lifting hardware, now known as Aztec Premium Lifting Hardware, has been an exercise in patience and diligence coupled with groundbreaking innovation. They've made inventory available from multiple locations across the country and utilized technology to develop a quoting tool to efficiently speed communication internally in order to shave hours off the turnaround time needed to provide quotes to customers.
G.L. Huyett's CEO, Tim O'Keeffe, said, "Our new custom quoting tool for lifting hardware worked so well for us that we decided to reengineer it and put it online so that our customers could get accurate price quotes instantly rather than having to wait for a sales representative to get back to them. Then they can order custom parts right then and there."
Recognizing that rigging, lifting, construction, and suspension industries move at break-neck speed, the Company began promising their customers custom Aztec Premium Lifting Hardware with a 5-day lead-time – which was not always easy to achieve. The custom quoting tool for lifting hardware, dubbed the Lifting IQ tool, sets out to reduce the wait for customers seeking custom lifting hardware solutions by providing them instant quotes along with the convenience of online checkout and on-demand part prints.
"We've changed processes in order to lean up production times and shipping from multiple locations to make it easier to get the parts out the door within 5 days,"* added O'Keeffe. "But to deliver on that promise, the Lifting IQ tool became a huge time saver for our sales teams. Now our customers can use it to get a price, generate prints, and buy parts to their specs online with confidence that they'll get them in hand quickly."
Dan Harriger, G.L. Huyett's Vice President of Sales, agreed, "More often than not, our distributor customers are asked for custom products for highly specialized applications with strict requirements that meet or exceed industry standards. The new Lifting IQ tool is just one way G.L. Huyett is making it easy for them to get what they need quickly to close sales and keep their customers coming back."
"This advancement saves time associated with manually creating the print and helps ensure that item specifications on the print are complete and accurate," said Alan Beard II, G.L. Huyett's eCommerce Manager. "Utilizing technology to improve the efficiency of communication is just one of the ways G.L. Huyett continues to improve while making it easier for our customers to get exactly what they want when they need it most."
Beard elaborated: "We've eliminated the need for our customers to provide engineering prints, submit quote requests, or wait for quotes to arrive. And, on the off chance that a customer is looking for something that isn't readily customizable, they'll know right away."
The LiftingIQ tool allows customers to specify material, finish, dimensions, thread type, and quantities for clevis ends, lifting eye nuts, lifting eye bolts, nut eye bolts, rod ends, and yoke ends.
Need a custom solution for lifting hardware? Get an instant quote here right now! For answers to frequently asked questions, or to see an online video demonstration of the LiftingIQ tool in action, register or login today. Or give their friendly Sales Team a call today at 785-392-3017.
Using the LiftingIQ tool requires a JavaScript enabled browser. Please use one of the following to acquire instant quotes and part prints: Chrome, Safari, Edge, or Firefox.
About G.L. Huyett
Established in 1906 by Guy Huyett in the "other Minneapolis," the company is one of the oldest continuously operating businesses in Kansas. The firm is a leading innovator of products and services geared to support industrial distributors in the non-threaded fastener and power transmission sectors, delivered by competent customer-centric people operating in a Culture of Excellence.
*Some exclusions apply