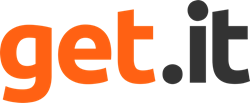 Our sites support many of the occupations that are in high demand as a result of the pandemic.
ALEXANDRIA, Va. (PRWEB) April 09, 2020
As organizations hire workers to combat the impact of the COVID-19 pandemic, Get.It today announced its participation in Appcast's Recruitment Advertising Grant Program. The initial launch was worth $100,000 and continues to grow with the involvement of industry leaders, including Get.It. As of April 2, 2020, the program had raised $368,000 and awarded 26 grants.
The program is open to organizations in the U.S. and Canada that are hiring workers to treat patients and slow the spread of COVID-19. Grants are being awarded to organizations including healthcare systems, senior living communities, facilities management companies, pharmaceutical research and development firms and other health services companies.
"Get.It is prepared to participate in this initiative and lend its network of 600+ occupational job sites to this cause. Our sites support many of the occupations that are in high demand as a result of the pandemic. We are truly proud to be part of this grant program to help fill the most critical job needs as quickly as possible" said Get.It CEO, Jacob Peebles
Chris Forman, CEO of Appcast, shared, "Given the nature of the pandemic, the situation is changing rapidly, as are the hiring needs of front-line organizations. Appcast is eager to contribute how and where we can and grateful to our job site partners for mobilizing around this cause."
Additional information is available by visiting
https://info.appcast.io/appcast-covid-19-recruitment-grant. Job sites interested in supporting the initiative can contact Matt Molinari of Appcast at
matt.molinari@appcast.io.
About Get.It
Get.It has been connecting employers and job seekers on the internet since 2006. We've built 600+ niche websites that reach millions of people each month. Each of these websites is powered by simple design, effortless functionality, and personalized options that ensure our members find what they're seeking. Get.It provides 100% free unlimited job postings (no free trials, no credit cards required) on its network of job sites as well as it's flagship site, Get.It. To learn more, visit https://www.get.it.
About Appcast
Using real-time data and programmatic technology, Appcast is advancing the recruitment advertising industry, enabling employers, agencies, recruitment firms, and job boards to improve recruitment outcomes, ROI, and attract high-quality job seekers. To learn more, visit https://www.appcast.io.
# # #
Note to editors: Trademarks and registered trademarks referenced herein remain the property of their respective owners.
Follow us on social media:
Twitter https://twitter.com/GetItTweets
Facebook https://www.facebook.com/GetItLive/
LinkedIn https://www.linkedin.com/company/get-it-llc/
Media Contacts:
Eric Maier
Executive Vice President, Business Development & Strategy, Get.It
eric@get.it
Heather Salerno
SVP Marketing, Appcast
heather.salerno@appcast.io