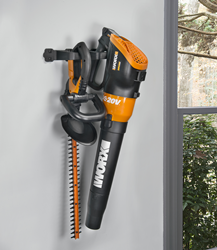 CHARLOTTE, N.C. (PRWEB) January 21, 2020
Pressed for space, consider the new WORX® wall mount tool organizers for the garage or home shop. These handy organizers help keep frequently used tools and accessories together in the same location, eliminating time-consuming, search-and-find missions.
The WORX Wall Mount Tool Holder, WA0138, includes two wall hooks and measures 6.7 in.W x 2.2 in.H x 3.5 in.D and accommodates WORX string trimmers, blowers/vacs, chainsaws, JawSaw, hedge trimmers, and more.
The Wall Mount Tool Holder is constructed of composite nylon for strength and durability. Four wood screws are included for installation. When mounted to studs, the tool holder's weight capacity is 33 lbs. When installed into drywall with anchors, it supports loads up to 17 lbs.
Take it a step further with the WORX 18 in. Wall Mount Tool Holder, WA0139. This expanded organizer includes two WA0138 tool holders and incorporates an 18 in.W x 2.5 in.H aluminum track to save space and create a versatile wall system. Secure the track to the wall with the four included wood screws and slide the wall mount tool holders into place. It is ideally suited to store up to three hand-held lawn and garden power tools, such as a string trimmer, blower, chainsaw or hedge trimmer and other tools.
Homeowners can mount multiple tool holders to store most of their powered lawn and garden tools. Due to the weight factor, the 18 in. Wall Mount Tool Holder should be installed into studs.
It's recommended to clean all cutting tools prior to storage. Also, when cordless power tools are stored in the garage or shed, it's a good practice to remove the batteries and store them indoors. Hot and cold temperature extremes can impact battery performance.
The WORX Wall Mount Tool Holder, (WA0138, $9.99) and the W ORX 18" Wall Mount Tool Holder (WA0139, $29.99) are available at worx.com.
Reach out to WORX social media links, including Facebook: https://www.facebook.com/worxus?ref=hl; Twitter: https://twitter.com/WORXTools; Pinterest: http://pinterest.com/worxtools and Instagram: @WORXTools