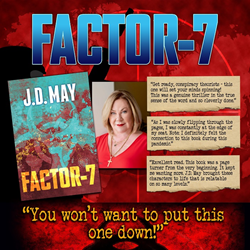 Life is made of choices, but they are not always ours to make.
BAYVIEW, Texas (PRWEB) January 04, 2021
Dr. Sam Hawkins's mentor, Dr. Roberts, has died from a hideous virus. Roberts's dying words are cryptic, and Sam is soon confronted by a massive cover up of his friend's death. Sam reluctantly partners with Dr. Rainee Arienzo, an Italian infectious disease specialist, and together they uncover the terrifying truth about Factor-7.
A clandestine plot for using the virus is about to be unleashed by a secret society who currently have possession of the pathogen. An international group of rogue intelligence agents, ex-military, and government officials, have their own demonic plans for it.
As they are forced further and further into a world of murder, power, intrigue, and corruption, it becomes deathly clear that exposure of the truth is just as dangerous as the group and weapon that they seek.