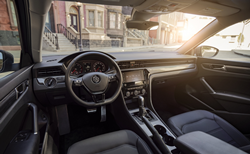 LAS VEGAS (PRWEB) September 26, 2019
A new model year of vehicles is always exciting. As people continue to drive around their favorite vehicles, fans are always excited to see what's new every given year. For the 2020 model year, Volkswagen took a look at its entire lineup and made several changes across all models. That's why Findlay North Volkswagen, a new VW dealer serving the Las Vegas area, is highlighting what's to come with the upcoming 2020 VW models.
Looking at the changes for the new model year, many Volkswagen models are receiving significant upgrades in both style and performance. On the technology side, many new VW models include the new Car-Net and Wi-Fi technology standard, as well as wireless charging for smartphones and mobile devices. Nearly all new 2020 Volkswagen models also include convenient safety features including the Front Assist, Blind Spot Monitor and Rear Traffic Alert. Many new VW models are also having their trim levels simplified to favor their long-term value.
When it comes to learning about the newest Volkswagen vehicles, drivers can conduct all of their research directly on the dealership's website. There drivers can find research pages on the newest models coming out, comparison pages between VW and competitor models or even browse the dealer's blog in order read up on the newest automotive news and information.
Findlay North Volkswagen is a full-service dealership that specializes in both new VW vehicles, along with pre-owned models from a wide variety of different makes and models. Those interested in learning more about the upcoming Volkswagen vehicles can do so by contacting their dealership at http://www.findlaynorthvw.com for more information. Car shoppers more willing to speak to a dealership representative directly can also get in touch with someone at Findlay North Volkswagen by dialing 702-982-4800.