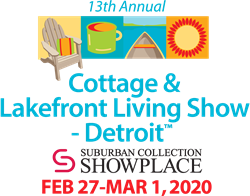 We have the ideas and exhibits whether you are looking to buy, build, rent or maintain your vacation property or just want to find out how to make this summer memorable for your family
NOVI, Mich. (PRWEB) February 18, 2020
Plan now for renovations or additions at the cottage, dock replacements, seawall projects or take home the latest water toys during the 13th annual Cottage & Lakefront Living Show opening Thur., Feb. 27 and running through Sun., March 1 at the Suburban Collection Showplace in Novi.
"Live life from the lakefront this summer," said Dawn Baker, show manager of ShowSpan, Inc. "Get ready for summer at our preseason show by walking through full-size cabins and putting your toes in the sand at The Beach."
Food blogger and Meals for the Mitten cookbook author, Gina Ferwerda, will demonstrate "Appy Tails," appetizers and cocktails presented together for sunset viewing parties, on the Cottage Living Stage. Other seminars include cottage family succession planning and a guide to vacation rental success.
Attendees can list their vacation property or look for availability on the "For Sale or Rent" bulletin board. Families can locate and mark where their vacation home is located on an oversized Michigan map. Showgoers can choose the entry that best captures cottage and lakefront living at the Water & Woods Photo Contest. Children of all ages are invited to put their toes in the sand and build a sand castle at The Beach, the show's giant sandbox.
Michigan artists featured in the Cottage Art Show will present metal art, rustic furniture and home furnishings, jewelry and cottage décor for sale. Decorative accessories, gourmet foods, handcrafted items and Michigan-themed merchandise will be available for purchase in the Lakefront Marketplace.
DreamCatcher BoatWorks of Grand Rapids will demonstrate repair methods for handcrafted custom wood kayaks, canoes and boats; discuss boat building techniques; and display custom-built canoes, kayaks and furniture. Michigan Chapter of the Antique and Classic Boat Society, dedicated to the preservation and enjoyment of historic boats, will have restored boats on display.
Exhibits with displays, information and educational materials include lakefront cottage and homebuilders, new construction log, timber frame and cedar homes, realtors, financing, vacation property for sale or rent, rustic and fine furnishings, decor, shoreline and cottage landscaping, lakeshore maintenance and cottage services, boats, docks, decks, seawalls, outdoor recreational equipment, stand-up paddleboards and water toys.
Experts throughout the show will share tips, advice and knowledge on purchasing, renting, planning, maintaining and enjoying spring, summer and year-round vacation and lakefront homes.
Landscaping ideas for cabin, cottage and lakefront properties are incorporated into displays that include outdoor living spaces, fireplaces, cooking options, patios, decks and garden products. Entry level to luxury pontoon boats, fishing boats, family sport boats, jet skis, kayaks, wakeboards and runabouts will all be on display.
"We have the ideas and exhibits whether you are looking to buy, build, rent or maintain your vacation property or just want to find out how to make this summer memorable for your family," said Baker.
Suburban Collection Showplace is located at 46100 Grand River Ave. between Novi and Beck Road in Novi, Mich. Cottage & Lakefront Living Show admission is $12 and includes admission to Outdoorama; $5 for children 6-14 and children 5 and under admitted free. Advance tickets online for Thurs. and Fri. are $10. On-site parking is available for a fee. For more information, visit http://www.NoviCottageShow.com, facebook.com/cottageandlakefrontliving, instagram.com/micottageshows or call (616) 447-2860.
# # # #
MEDIA NOTE:
Hours of the 2020 Cottage & Lakefront Living Show in Novi:
Thurs., Feb. 27: 1 p.m. – 9 p.m.
Fri., Feb. 28: 11 a.m. – 9 p.m.
Sat., Feb. 29: 10 a.m. – 8 p.m.
Sun., Mar. 1: 10 a.m. – 5 p.m.