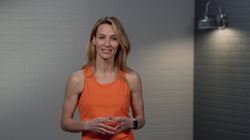 I'm thrilled to share my passion for running with Wellbeats, and I'm pumped at the idea of joining people on their personal fitness and health journey.
ST. LOUIS PARK, Minn. (PRWEB) May 22, 2019
Most people will never run as fast as an Olympian, but a new fitness channel from Wellbeats, a leading provider of virtual, on-demand fitness, is giving everybody the opportunity to train like one whether they're trying to run a sub-three hour marathon or just want to up their walking game. Wellbeats announced today the release of Strides, a new channel featuring running classes designed and hosted by Olympian and Minnesota native Carrie Tollefson.
St. Louis Park-based Wellbeats delivers more than 400 on-demand fitness classes. Available online or through an Android or iOS app, the classes cover a range of fitness styles, ability levels, and interests – from cycling to barre to relaxation and nutrition. Content can be licensed by employers and made available as a health benefit, while individual users can subscribe for a monthly fee through an iOS app.
Wellbeats developed its new running channel in response to user feedback showing that running and walking are the most common forms of exercise, with 79% of people identifying those activities as part of their regular fitness routine. Strides currently features 14 classes, with lessons designed for beginners and advanced runners alike. Most classes will last 20 to 30 minutes and will offer workout types including hills, intervals, tempo or progression runs, and stretching. The channel will also launch with a Train Your Way to a 5K plan.
"One of the best things about running, besides the fact it's fantastic exercise, is that anybody can do it. You don't have to be fast. You don't need expensive equipment. You just need a pair of shoes and a willingness to get out the door," said Tollefson. "I'm thrilled to share my passion for running with Wellbeats, and I'm pumped at the idea of joining people on their personal fitness and health journey."
Tollefson holds numerous titles and records for distance running in high school, collegiate, and post-collegiate national competitions. She competed at the 2004 Olympics in Athens, Greece, and is a regular commentator for ESPN, NBC, NCBSN, ABC and USATF.tv, where she covers national and world-class running events. She also conducts training camps and is a motivational speaker.
"There's no better ambassador than Carrie for the sport of running. Her passion and authenticity come through whenever you talk with her," said Jason Von Bank, president and CEO, Wellbeats. "Carrie has the knowledge to challenge advanced runners, while connecting with and motivating people who never thought they could be runners. That's the beauty of the Strides channel – it can truly fit anyone's fitness and interest level."
Wellbeats will celebrate the launch of the new channel with an event May 30 at Brookview Park in Golden Valley. Tollefson will answer questions from attendees and lead participants in a 30-minute fun run.
Visit http://www.Wellbeats.com to learn more about on-demand, virtual fitness for commercial or individual use. To download the Wellbeats app and experience Strides, visit the Apple App Store.
For more information:
Barbara Tabor, APR (651) 230-9192 / Barbara(at)taborpr(dot)com / @taborpr
About Wellbeats
Based in St. Louis Park, MN, Wellbeats is a leading provider of on-demand fitness classes for use in workplaces of all sizes, on college or university campuses, multi-family housing, the U.S. military, and fitness and health clubs. Wellbeats makes fitness easy, accessible and affordable for everyone. More than 400 workout classes are available via workplace kiosks, an online employer portal, and via Android and iOS apps. To learn more, visit http://www.wellbeats.com or check out a sampling of the company's fitness classes during a Facebook Live session. Follow on Twitter or LinkedIn.