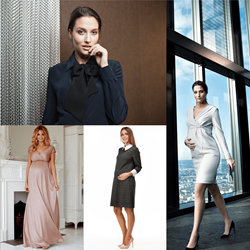 "We style bold pieces in a flattering and memorable way, making our expecting mothers feel confident and open to making fashion decisions that they may otherwise shy away from during their pregnancy."
THORNHILL, Ontario (PRWEB) October 18, 2018
The success in making any expecting mother look and feel like a glowing goddess includes making colour choices that compliment her complexion, embrace her beautiful silhouette, and do not compromise on her own unique style. Stylists at Seven Women have outlined the perfect colours to help expecting mothers look stylish and chic this fall in casual settings, during pregnancy shoots, and at special events.
Seven Women is Canada's leading maternity clothing retailer, known for their large selection of unique and fashion-forward maternity wear options. Dresses, jeans, casual t-shirts, formal and bridal dresses, leggings, hosiery, you name it - Seven Women has something for all fashion tastes and budgets. The brand was named after 7 pregnant women who were contemplating a better world over a cup of coffee in 2002. Since then, Seven Women has helped thousands of expecting mothers feel great about their bodies throughout their pregnancy journey. Their stylists have been giving expert advice to expecting mothers for years, on what body changes to expect during their pregnancy and what they will need in their maternity wardrobe. These maternity experts thoroughly understand the change that the pregnant body will experience, as well as the fits, fabrics, textures, and colours that look best. They have shared a colour guide that is curated to celebrate the expecting mother's silhouette:
Casual Wear
Never underestimate the obvious choice, caviar black. Dark colours can give you a slimmer silhouette, and can be a lifesaver on days where you feel bloated, nauseous, and tired. Not only is it a safe choice for days where you are feeling a little anxious about the changes in your figure, a simple black dress can serve many purposes. With a simple change in shoes, you can dress down or up. Deep shades of evergreen are a new and trendy addition to this fall, amongst the usual navy and charcoal. It is a great way for the expecting mother to look effortlessly chic and classy. Earthy tones like gray, burgundy, and brown are perfect for the fall and help to make you look visually slimmer, however this does not mean you cannot play around with bright colours and patterns during your pregnancy. Mixing a dark top with bright accents, prints, and patterns can help compliment your figure. The right cuts of trendy patterns like the British Edinburgh and Scottish Highlander plaids are perfect for the fall and flatter your body. You can also add pops of colour with bright accessories. Blush and cream tones are also great for the fall. A trendy pussy-tie blouse in a rich oyster or silver shimmer would be a perfect addition to your maternity wardrobe.
Pregnancy Photoshoots
A great way to capture your journey is a pregnancy photoshoot, and luckily fall foliage makes for a stunning backdrop. As your backdrop will most likely be filled with reds, oranges, greens, yellows and browns, the best way to compliment this is with neutral tones. Photographers prefer to work with neutral tones, as they look great with all print tones such as sepia or black and white, and really set the mood for timeless shots. An in-season, long white flowy dress with a nature backdrop looks elegant, feminine and truly breathtaking. For a more revealing and chic photoshoot, a little black bodycon dress is a versatile option, and a maternity wardrobe essential. An experienced stylist at Seven Women can help guide you on what fits your body and style the most, and what sizes will fit best in the latter months of your pregnancy.
Special Occasions
Holiday parties can last all night, so it is important to be both comfortable and sexy. Dark colours and small prints are the best if you are transitioning from maternity to nursing during the winter months. For social occasions, you might get caught up in all the fun and excitement and forget your feeding schedule. Dark colours and prints keep you worry-free by helping you conceal any leaks during your nursing period. You may also want to colour coordinate with the colours in your baby shower. Neutral pinks and blues are great, but darker colours may help you look and feel your best, and be the most photogenic option.
Seven Women's main goal is to make women feel great about themselves during their pregnancy. "We don't want expecting mothers to compromise on their own personal style or feeling confident about themselves during their pregnancy," says a stylist at Seven Women. "Apart from the dark-toned essentials, we encourage our moms-to-be to make the most out of the trendy fall season, and be adventurous with a piece or two. We style bold pieces in a flattering and memorable way, making our expecting mothers feel confident and open to making fashion decisions that they may otherwise shy away from during their pregnancy."
About Seven Women: Seven Women is Canada's leading maternity clothing retailer. They offer casual and formal wear to multiple Canadian cities including Toronto, Mississauga, Ottawa, Calgary, Edmonton, Vancouver, Montreal, as well as all of Canada and the United States online. They are dedicated to offering maternity fashion options with the same quality, fit and tailoring as regular wear, that flatters women throughout and beyond their pregnancy. Their products cater to a vast range of styles and budgets, with no extra duties with online purchases and no drastically marked-up department store prices. They are commonly known for carrying pieces worn by celebrities such as Alyson Hannigan, Julia Stiles, Emma Bunton, and Princess Madeleine of Sweden. They also carry brand name maternity wear such as Seraphine, Paige Denim, Citizens of Humanity, Tiffany Rose, Isabella Oliver, and Ripe.
If you would like to learn more about maternity fashion and the fall 2018 maternity colour palette, please contact Seven Women at 1-855-777-9553 or locally at 1-416-949-6687, email info@sevenwomen.ca or visit their store at 7690 Yonge St, Thornhill, Ontario L4J 1W1.
This article was written by My An Tran, Senior Copywriter at Mrkt360.