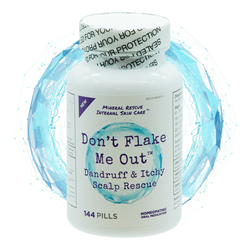 Now you can relieve & also prevent dandruff without the harsh side effects topical dandruff treatments can have. It's safe and effective. No more stinging, burning scalp or damaged, color stripped hair, guaranteed!
CLEVELAND (PRWEB) April 18, 2019
It's time to try a better alternative. Why use a topical dandruff treatment for an internal problem? Get to the root of the matter before those pesky dandruff flakes reach your scalp's surface, making your life miserable. Tell dandruff to flake off.
Now you can attack dandruff before it attacks you. New Don't Flake Me Out Dandruff & Itchy Scalp Rescue is revolutionary dandruff & scalp treatment that works internally to relieve dandruff and prevent new dandruff flakes from forming for a healthy, happy scalp from within.
It contains a powerful combination of seven all-natural, mother earth derived scalp clearing minerals in a pill to relieve & prevent dandruff without the harsh side effects of topical dandruff treatments. No prescription necessary.
Don't Flake Me Out Dandruff & Itchy Scalp Rescue treats all types of dandruff and scalp conditions from itchy, dry or oily without any scalp irritation that topical treatments can have. No more stinging, no more burning, irritated scalp. No more damaged hair. It's safe – and will NOT strip your hair color. Guaranteed! You can even use your favorite hair care products again.
A twelve-week treatment course is recommended for optimal results. Then, continue using as long as beneficial.

All Natural
Vegan
Gluten Free
Cruelty Free
Non-Toxic
Available exclusively only on Amazon: $29.99 Suggested Retail Price
Click here for more info.