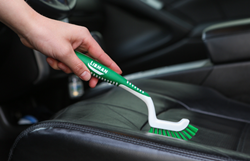 ARCOLA, Ill. (PRWEB) May 22, 2019
Many of us have a spring cleaning checklist for our homes and even our outdoor spaces, but it's important to not forget a place where many of us spend time throughout the day: our car. Giving the interior of your vehicle a thorough spring cleaning is a great way reduce a winter's worth of dirt and grime.
The Libman Company, a 123-year old American manufacturer of household and commercial cleaning products, offers some simple car detailing tips that will help keep your ride fresh and clean.
Reaching Nooks and Crannies Before Vacuuming
Vacuuming out the crumbs and dirt is one the quickest ways to make a cleaning impact. Before you vacuum, brush the floor mats and interior carpet with a small scrub brush (try Libman's Easy Grip Scrub Brush). This will help to bring crumbs to the surface, giving your vacuum even more to suck up. This scrub brush also features a scraper edge for getting into cracks and corners.
Upholstery seams can also use extra attention before vacuuming. These crumb hotspots can be a pain to clean out, but Libman's Tile & Grout Brush features an extra narrow head specifically designed for reaching tight spaces. This makes quick work of cleaning even the most difficult of places, like the metal tracks under your seats or the space between your seat and the center console.
Don't forget the Doors
Dirt and grime often collect on car door panels and in cup holders. Use a microfiber cloth and hot soapy water to give plastic door panels a cleaning.
Consoles and Cupholders
To conquer your car's console and cup holders, Libman's Glass/Dish Sponge provides an easy solution for these tricky and sticky places to clean.
Interior Windows
The fingerprints, dog slobber and dirt can quickly build up on the inside of windows. Spring is the perfect time to give your windows a fresh clean. Using a Window Squeegee provides a streak-free clean that lets you fully enjoy the sunshine to come.
For more tips or to find a Libman retailer near you, visit http://www.libman.com.
About The Libman Company
The Libman Company is a family-owned company that has been making quality cleaning tools since 1896. The company manufactures products from brooms and mops to more specialized tools for kitchen and bathroom cleaning and industrial uses. Libman proudly manufactures most of their products in the United States, including the company's well-known Wonder® Mop