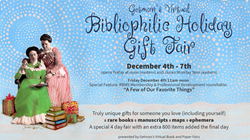 "This holiday season, you can shop from the comfort of your own home and find rare and truly one-of-a-kind gifts for loved ones, friends, and colleagues," states Marvin Getman.
BOSTON (PRWEB) November 19, 2020
A Few of our Favorite Things, Getman's Virtual Bibliophilic Holiday Gift Fair, will open for business on Friday, December 4 at noon EST and close at 9 pm EST on Monday, December 7.
More than 200 dealers from all over the country will be offering unique gifts for the holidays including rare books, manuscripts, maps, and ephemera —more than 3,000 rare items for sale with an additional 800 fresh items posted on the last day. Prices range from under $50 to many thousands of dollars so there will be something for everyone from the seasoned collector to the first timer.
HIGHLIGHTS
One of the items up for sale will be the very first commercially produced Christmas card dated December 1843. The card is a hand-colored lithograph on card stock, measuring 3-1/16 x 5 inches, probably the finest surviving example in unused condition, and likely to have been a salesman's sample. The card is framed with double-sided glass. Only one thousand copies of this original Christmas card were produced to sell retail for one shilling each, and it is estimated that that less than 30 examples have survived.
The artist John Callcott Horsley (1817-1903) designed this very first Christmas and New Year card in 1843 at the suggestion of Sir Henry Cole, founder of the Victoria & Albert Museum, and it is believed to have gone on sale the same week that Charles Dickens' A Christmas Carol was first published. As it illustrates a family toasting the recipient with raised glasses of red wine, including children, it was quickly denounced by the puritanical Temperance Society and it took another three years before the next Christmas card was produced.
The second highlight of the show is an Emily Dickinson original handwritten manuscript poem offered for sale for the first time in more than 25 years. Dickinson was an American lyric poet who lived in seclusion and commanded a singular brilliance of style and integrity of vision. The This poem is titled "Santa Claus" and differs slightly from a transcription made during the 1950s.
The card and the manuscript are for sale on the site, and while the show will be open for four days, unlike an auction, items are sold to the first person who offers to buy them.
"We all remember the joy of receiving a special book as a gift for the holidays," says Marvin Getman, Founder of GetmansVirtual.com, producer of the largest virtual antiquarian book and ephemera fairs in the country. "You may still own that book or, more likely, it was sold at a yard sale when your family moved or was given away during a spring cleaning. This holiday season, you can shop from the comfort of your own home to find a truly memorable gift for someone you love—and maybe you'll even rediscover that favorite book that you once owned!"
At noon on December 4th, there will be a panel discussion presented by the Rare Book and Manuscript Society Membership & Professional Development Committee. The panelists will discuss favorite items from their personal collections. Registration for the panel discussion can be done here:
https://www.eventbrite.com/e/a-few-of-our-favorite-things-rbms-membership-professional-development-tickets-127397484305
To enter the online Bibliophilic Holiday Gift Fair visit this link http://www.getmansvirtual.com
Like everything else in our world, COVID-19 has altered the way businesses display and sell their wares to the public. Marvin Getman pivoted in May of this year to host his popular in person fairs online transforming the way buyers meet sellers of rare books, maps, prints and ephemera. Getman has already hosted six successful online book fairs since June, and other organizations around the world are now licensing his platform, seen as the emerging gold standard in the industry. With a virtual show, collectors will be able to peruse the booths of every exhibitor in the fair one by one, or easily visit just their favorite dealer. A built-in search feature allows visitors to browse by category, subject, any search term, or price to find specific items of interest. To keep the online shows fresh, exhibitors will be asked to only feature items not available on any other book selling site. For more information, visit http://www.getmansvirtual.com
# # #