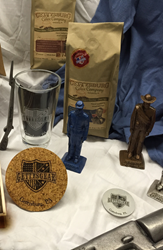 Gettysburg, PA (PRWEB) November 22, 2016
If the men in your life had one holiday wish on their list this year, it would probably be this: no more neckties! Now there's a great option for husbands, dads, grandpas, brothers or co-workers, with just a few clicks. They don't even have to be a Civil War fan to appreciate the distinctive gifts from GettysGear.com, specializing in novel gifts and collectibles highlighting the uniqueness of historic Gettysburg. There's a wide array of hand-made, artisan quality apparel, accessories, home décor, coffee and mugs.
Here are just a few of the site's most popular items made in Gettysburg:

Connoisseur coffee blends and mugs –coffee made from the finest high mountain, shade-grown beans and hand roasted in small batches by the Great Gettysburg Coffee Company™. Enthusiasts can satisfy individual tastes by choosing from various blends and roasts.
Hand Cast Aluminum Eagles made in the traditional sand cast method and meticulously hand-painted in a four-step process are available in a variety of finishes and sizes from 12" to 25" wing spans.
Guardians of Gettysburg® Statuary are 5 1/2" tall statues hand-cast and finished right in Gettysburg and available in antique blue, bronze, pewter and silver.
Comfortable, Handmade Throws made from 12 hand cut 12 1/2" squares featuring popular Civil War art in a natural blue, gray and color schemes.
Civil War Field Bags and Replica Revolvers and Rifles. Hand-cast or finished with commemorative etchings and art.
The original Gettysburg Cigar® is hand crafted by Great Gettysburg Tobacco Company® and offers a variety of tobacco blends and sizes made with Pennsylvania leaf wrappers.
Some items are available in special gift packs and all gifts are shipped via USPS Priority Mail or FedEx Ground to ensure speedy delivery.
If you want the truly unique for that special someone, take a step back in time and a step up in quality. Get him the gifts he will cherish at http://www.GettysGear.com.