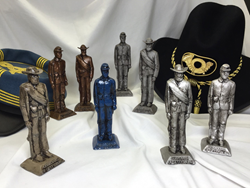 Designed with a multi-layer, patina application process, each six-ounce figure is available in a long-lasting antique blue, bronze, pewter, or silver finish, purchased separately or as a set.--Cary Gregory, GettysGear.com
Gettysburg, Pa. (PRWEB) May 01, 2017
New gift ideas for the Civil war buffs and toy solider collectors in your life are now featured at http://www.GettysGear.com. The Guardians of Gettysburg® Statuary collection from GettysGear.com honors the valor, bravery and commitment of all those that served in the historic Civil War battle. Hand-cast and hand-finished from solid aluminum in Gettysburg, Pa., each 5 1/2" tall confederate and union solider is an ideal accessory to other Civil War memorabilia and collections or showpiece for mantels, desks, bookcases, and shelves.
"Designed with a multi-layer, patina application process, each six-ounce figure is available in a long-lasting antique blue, bronze, pewter, or silver finish and can be purchased separately or as a matching set with its union or confederate counterpart," said Cary Gregory, GettysGear.com.
Dedicated to commemorating historic Gettysburg and creating awareness for the Gettysburg National Military Park, GettysGear.com specializes in apparel, accessories, home décor, and gift items produced, hand-crafted and packaged by local businesses. Additional products found at the popular GettysGear.com site include:

Hand Cast Aluminum Eagles made in the traditional sand cast method and meticulously hand-painted in a four-step process are available in a variety of finishes and sizes from 12" to 25" wing spans
Civil War Field Bags, Replica Revolvers and Rifles hand-cast or finished with commemorative etchings and art
Hand-cast Gettysburg Ashtrays made in the centuries old sand-casting method and available in antique pewter or black finishes
GettysGear.com accommodates last-minute orders by shipping all items via USPS Priority Mail or FedEx Ground to ensure speedy delivery. Some orders can also be combined into special gift packs to reduce purchase and shipping costs.
When looking for your next novel gift idea, take a step back in time and a step up in quality by visiting http://www.GettysGear.com. Additional details are also available by emailing info(at)gettysgear(dot)com.