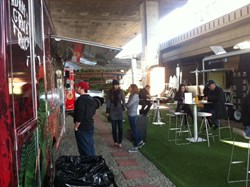 We have worked hard to create a shared space that combines the comfort of a restaurant with the convenience and variety of food trucks.
SAN FRANCISCO, Calif. (PRWEB) January 15, 2014
G Food Lounge San Francisco located at 431 2nd Street between Bryant and Harrison Street is the first of its kind food truck park serving breakfast, lunch and dinner in the South of Market (SoMa) neighborhood. Facebook fans and employees of tech-startups and companies in SoMa are invited to try the G Food experience with discounts available between Thursday, January 16 and the end of January 2014. Open every day from 7:00 AM to 9:00 PM.
G Food brings a lounge-room experience for high tech professionals, employees of start-ups and passersby looking for economical meals from diverse international cuisines. Guests enjoy a perfect place to relax before, during or after a grueling work day. The tastefully decorated space with ergonomic seating accommodates 100+ diners served by up to 5 food trucks from around 30 trucks in rotation. G Food Lounge is one of the first mobile food providers to serve breakfast. Alok Dutt, co-founder of G Food Lounge said,
"We have created a shared space where SoMa's high tech community can socialize with friends and enjoy a sense of community. We believe the G Food Lounge sharing experience will become a popular way to connect, interact and engage."
The variety of changing menus is the main appeal for lovers of the food truck service. Guests can choose Tender Pork Belly with Turmeric Pickled Daikon & Green Shiso from the Chairman Truck, Chorizo Breakfast Burrito from Naked Chorizo, and Strawberry Chocolate Whipped Cream from another truck. Online ordering, delivery, Wi-Fi, beer and wine are coming soon. G Food Lounge may also be reserved for corporate and private events.
Fans of G Food Lounge on Facebook GLoungeSF and the tech startups and companies of SoMa are invited to be among the first to sample the food and ambience with discounts available from Thursday, January 16, through the end of January. Look out for discount coupons valid to January 31 sent directly to your company, on Facebook or via LinkedIn. Co-founder Manish Panjiar said,
"We are excited to welcome our first guests to the G Food Lounge. We have worked hard to create a shared space that combines the comfort of a restaurant with the convenience and variety of food trucks."
About G Food Lounge
G Food Lounge San Francisco located at 431 2nd Street, San Francisco, California 94107 brings together mobile food options in a lounge environment for the high tech business and residential community in South of Market (SoMa). For more information visit http://www.gfoodlounge.com