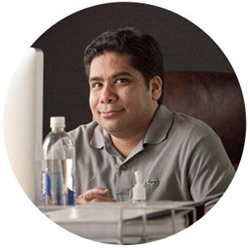 "My mission was to serve as a resource to individuals with rare diseases while also providing specialized care providers an opportunity to reach them."
LAGUNA BEACH, Calif. (PRWEB) February 10, 2021
GGPMedia, the digital marketing agency for scaling companies, announced today it has signed an agreement to acquire The Irfan Jafrey Domain Portfolio, a media company that builds and monetizes online properties and digital assets based on high value domains. The all cash deal valued at $6,500,000 USD will give GGPMedia more ways to offer its clients of scaling companies valuable native advertising content across a broader range of topics and a more diverse set of media.
"For many clients, their first introduction to GGPMedia is through our niche websites, blogs and lead oriented websites. More recently, our customers have started to seek out news and trends-based content across on social media specifically around healthcare and chronic conditions," said Grant Golestan, CEO of GGPMedia. "By acquiring The Irfan Jafrey Domain Portfolio, we'll be able to better meet the needs of these scaling companies by delivering educational, business, and tech trend content that's highly sought after and relevant. Irfan and his team have a proven ability to create content that is heavily searched, curated and organized in a way that serves as a resource for millions of people across nearly 28 web properties. This is something we are deeply passionate about, and I'm excited to bring these assets into the GGPMedia fold to take that work to the next level."
GGPMedia has built a large community around its educational content, with seven million people each month reading the company's blogs and hundreds of thousands viewing its network of branded websites. By acquiring The Irfan Jafrey Domain Portfolio, GGPMedia will be able to better serve the needs of their customers and community by giving them the content they want on the medium they love.
"I started The Irfan Jafrey Domain Portfolio in grad school with one domain, purchased for $54.00 and the mission to help individuals with rare diseases find up to date, comprehensive, easy to digest information along with an opportunity for specialized health care providers to reach them through thoughtful, empathy based advertising. This created a unique opportunity for advertisers to reach a highly targeted audience with unprecedented efficacy. Organically we grew our web properties purely by my passion and interests centered on the human experience. By joining the GGPMedia team, Grant and his team will take that mission to the next level to build the best business content networks in the world," said Irfan Jafrey, developer of The Irfan Jafrey Domain Portfolio and current CEO of Roosterly. "I know the GGPMedia team shares our commitment to creating high quality content to help companies scale, and I am excited to support them over the next 12 months in that transition as I consult with them."
The Irfan Jafrey Domain Portfolio was started in 2006 and keeps its more than 5.5 million readers informed with topical stories and perspectives, distilling complex healthcare stories into actionable content. Irfan Jafrey currently serves as CEO or Roosterly.com, a marketing technology firm focused on supporting over 2,000 executives and small businesses through algorithmically driven content curation and social media management services.
About GGPMedia
GGPMedia is a leading full service digital marketing agency focused on native advertising among syndicating and licensing content for use by third parties. The platform includes marketing, sales, service, and website management products that start free and scale to meet our customers' needs at any stage of growth. Today, more than 1,000 customers across more than 120 countries use GGPMedia content through third party licensing agreements.
GGPMedia has offices in Laguna Beach, CA.
Press Contact GGPMedia
Liza Bradshaw
liza@ggp.media
949-505-4733