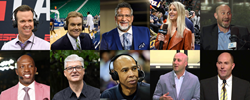 It's amazing to have these professional broadcasters and sports personalities be a part of our Ghostcast family
ORANGE COUNTY, Calif. (PRWEB) March 17, 2021
Ghostcast Inc., a technology company that has developed the first social podcasting platform, today announced the additions of award winning professional sports broadcasters and sports personalities to its Advisory Board.
Notable names that have joined Ghostcast's Advisory Board include: NBA broadcasters John Ireland, Craig Bolerjack, Alema Harrington, Kristen Kenney, and Former NBA World Champion and current NBA Broadcaster Mychal Thompson. Also added to Ghostcast's Advisory Board is Former NBA World Champion, NBA Finals MVP and former NBA broadcaster and current NBA assistant coach Chauncey Billups; Los Angeles radio personality Steve Mason; sports broadcasters and personalities Andy Kamenetzky and Brian Kamenetzky; and former NFL All-Pro Tight End and current BYU Associate AD Chad Lewis.
In addition to professional sports broadcasters and sports personalities, Ghostcast's Advisory Board includes individuals with diverse backgrounds in entertainment, business, culture and politics, which collectively represent the platform's main categories.
"It's amazing to have these professional broadcasters and sports personalities be a part of our Ghostcast family, and speaks volumes in their belief in what we've accomplished and where we are headed. Many of our advisors have broadcasted on the global stage and have reached the pinnacle of their careers, so their feedback and support is invaluable as we continue to build the premier audible platform that fosters and grows social audible communities among content creators and their audiences," said Ryan Fuller, CEO of Ghostcast, Inc.
About Ghostcast
Concepted in 2016 and incorporated in 2020, Ghostcast is on a mission to enable passionate communities to connect through their voice of choice at moments that matter. The platform's current and future features include live audio broadcasting capabilities, built-in broadcaster/listener interaction and social engagement tools, platform currency transactions, and a set of professional broadcasting, advertising, and analytic tools that empower the creation of unique, fun, and entertaining experiences. All of which allows everyone to be a ghostcaster – for fun or to build a business.
For more information, please visit http://www.ghostcast.io
SOURCE
Ghostcast, Inc.
INQUIRIES
media@ghostcast.io